A "regression into childhood" is the best way that I can articulate my excitement when this TV – or should I say the Samsung 55" Series 9500 SUHD Curved TV – came through the door.
I've always been drawn to technology. At 2 years of age, I can remember being mesmerised by a "new" device called a Cassette Player; needless to say, within no time, Bruce Springsteen was bellowing throughout the house and 28 years later, it was time to relive that joy; only this time, I streamed "The River" music video in 4K through YouTube; my, how technology has evolved.
As the TV was being installed, I had a big ol' smile on my face – I probably looked like the Joker; but, enough about that. Here are my opinions and experiences with this beautiful, boundless-designed beast.
At first glance                                                                           
It's a stunner – to say the least! In my opinion, Samsung has outdone itself, creating what I would like to coin, Technological Art. They've been able to marry the concepts of brute power under the hood with a modern, sturdy – yet delicate chassis. Let's take it for a test drive.
Screen curvature
There are differing opinions about screen curvature. It's touted to reduce eye-strain and give you a far more immersive entertainment experience. Many believe it's purely aesthetic. I don't share this opinion. When I sat down and watched a video on YouTube, in 4K, I was completely drawn in; in my eyes, it makes a difference.
UI
Right from when you turn on the TV, you are greeted with an easily-navigable UI. Being someone who had never explored the functionality of a Smart TV (if you can imagine such a thing); I was able to find my way around the various apps, sources and settings with no issues at all.
The ease of this is due to the Smart Hub: a tray running along the bottom of the screen on which you can add your favourite app.
Display: SUHD (4K) with Quantum Dot Technology
I'd seen the ads on my dismal FHD TV professing the marvel of Quantum Dot Technology and all I can say is that it honestly does live up to the hype.
The rundown on Quantum Dot Technology as stated by Samsung:
"Quantum dots are nano-sized particles that express different colours depending on their size. And by combining them with 10-bit panels, SUHD TV is able to express an impressively wide range of colour shades that come together to create the most realistic and accurate colour."
The High Dynamic Range (HDR) plays a big role in the true-to-life picture quality that is experienced. HDR increases luminance; in the case of the 9500 series, it reaches a peak of up to 1000 nits, essentially bright parts of image are brighter, dark parts of the image, darker, giving a highly-detailed picture.
The TV also employs Ultra Black technology. This means that there is a large reduction in glare; so, even if your TV is situated in a sunlit room, there will be minimal reflection of the surroundings.
Build and design
Before I even flipped the switch, I was taken aback by the design, which is very modern – it's minimalism taken to the max! Samsung has created it to feature a 360-degree "boundless design"; this means that the bezels are paper thin, giving you an edge-to-edge screen – there are no limitations.
Downloading apps
There are lots of different options to suit your taste! They are very easy to download automatically and install within seconds. All you need to do is access the "Apps" button on the Smart Hub.
YouTube
This was my first test and actual experience of 4K! I immediately scrolled the app and searched for "the best 4K videos" and I was greeted with a plethora of amazing destinations that are all on my bucket list.
The detail of the videos is awe-inspiring; whether it was terrain or sea everything was sharper and more lifelike than I'd ever seen before. Anyone walking past would never have known that I was streaming YouTube content.
VoD streaming: Showmax
The video-on-demand streaming service, Showmax, was pre-installed on the TV and so it only made sense for me to give it a test drive.
I have an account already and so logging in was easy – the only frustration is the time that it takes to select the letters on the digital QWERTY keyboard and so I decided to pair a Bluetooth-enabled wireless keyboard to the TV. There was no lag and I was able to select my show without any hitches.
According to ShowMax, they stream their content at 720p, but there is a massive difference between watching on a laptop and the TV – the picture quality seems far more detailed and this wasn't just my imagination.
The intelligent picture engine is able to remaster non-SUHD content through analysing the brightness of the content and remastering it to the peak contrast. In short, I am very impressed with ShowMax's functionality on the TV.
Audio
The TV boasts 4.1 CH down-firing speakers with a 60W sound output. This is the only instance throughout the whole experience where I was disappointed. The TV was placed in a spacious corner where, in our open-plan office, I hoped the sound wouldn't be overpowered; this didn't happen. I had to turn the volume to over 50% in order to hear clearly. My suggestion is that you invest in the Samsung R7 360-degree wireless speaker – it drowns out the office chatter.
One Connect Box
I absolutely love this: a separate box with an array of different ports for all of your gadgets. It includes
HDMI Ports x4
USB ports x3
Coaxial input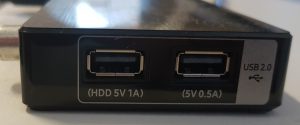 It gives you so much more convenience, especially if you want to mount the TV on a wall – no more fiddling around with your face touching the screen as you try to find the correct port.
The One Remote
Now, this is nifty! It's an all-in-one navigational dream tool that lives up to its name.With all the functionality that this TV possesses, you would expect a giant remote with countless complicated buttons, but that's not the case.
Firstly, let's discuss the very cool Auto Detection feature. When you plug in any device – directly to a port on the TV or via the One Connect box, the TV will recognise what it is e.g. a Blu-ray player or a game console; simply access the Smart Hub and it's right there for you. Furthermore, the TV is able to teach the remote everything it needs to know about the connected device. One Remote provides you with a streamlined entertainment experience.
It is truly "One remote to browse it all" The Smart Remote is thin, modern, sleek and all powerful. It allows you to control EVERYTHING!
Navigation wheel with OK button in the centre
Home button
Play/Pause
Return button
and CH buttons
Microphone button (used for voice recognition
Connecting devices via Bluetooth® Wireless speakers/ Keyboard
As already mentioned, connecting the wireless keyboard was very simple; however, I needed to see if other devices followed suit.
The UI is very easy to navigate and there was no issue finding the Bluetooth setting. I set up a Samsung R7 360-degree wireless speaker…it took a few tries before it actually paired. I really liked the fact that the speaker announced that SoundConnect® and Bluetooth were activated – very cool!
SmartView App – Mirroring from mobile to TV
I own a Samsung S7 and like a loving sibling, the TV recognised it and within a second, my phone screen was staring back at me.
To see just how compatible it was, I decided to turn on the DStv Now app. Yip, no problem at all – in no time, I was scrolling through the app's menu to catch up on some sport. And best of all, when I rotated the phone, the screen filled completely without any pixilation.
Voice recognition
If you're not in the mood to select the letters to search for your desired content, why not just ask the TV do it for you!
Simply press the "microphone icon button", hold the remote close to your mouth and give a verbal command. To test this, I went into the native web browser and said "pricecheck.co.za" – I was taken to the homepage instantly. The intuitive nature and accurate recognition of the commands was very impressive.
Web browsing
The UI of native web browser is user-friendly – if you can surf Chrome, FireFox and Explorer Edge with ease, you'll have no problem.
The only thing that you'll need to familiarise yourself with is how to navigate with the Smart Remote. You will have to press – or hold down on the wheel – in order to move the cursor; this can become a bit frustrating, but I'm being really pedantic here.
Ensure that you have a strong internet connection so that you can get the full experience; I've decided to slot in a LAN cable instead of connecting wirelessly.
If you have a stable connection, you'll find that webpages load quickly. I decided the test the picture quality and streaming speed of DStv Now.
*You need to be a DStv Premium subscriber to activate this service. If you are, have your ConnectID and password ready because it is required.
I streamed DStv Catch Up (M-NET and Supersport) The video content loaded immediately; the intelligent picture engine did its thing and remastered the picture; it was as if I were watching live TV.
Note: You won't be able to stream Live TV through DStv Now. This is DStv's current policy.
Final words
You don't watch this TV, you experience it. Being able to review the 55" 9500 series SUHD TV has been a privilege. There is absolutely no doubt in my mind that anyone who purchases it, will never look back.
In fact, it's much more than a TV; it's an entertainment hub that carries Samsung's signature ethos of an uncompromised amalgamation of innovative engineering and awesome aesthetics. For me, you cannot go wrong with this SUHD wonder.
Key specs
Image display
Screen size 55"
Series 9 – KS9500
SUHD 4K TV
Design
Screen type: Curved
Backlighting: Edge-lit LED
Stand type: Slim Y-shape
CEA 4K UHD Certified
Video
HDR 1000
Resolution: 3840 X 2160 pixels
Picture engine: UHD Upscaling
Motion rate: Supreme MR 240
Quantum Dot Colour
Auto Depth Enhancer
Sound
Speakers: 4.1 CH (Down Firing & Front Firing with Tweeter)
Dolby Digital Plus
Sound output: 60 W (20W x 2; Woofer 10W x 2)
Multi-room link
TV SoundConnect
Bluetooth headset support
 Smart TV Features
Web Browser
Wi-Fi Direct
Smart Hub
Apps platform (with apps and full web browser
Quantum Dot Display
Voice interaction
Smart View 2.0
Precision Black
ConnectShare™
Supreme UHD Dimming
Bluetooth®
One Connect Box
TV – Mobile Mirroring
Mobile – TV Mirroring, DLNA
Easy pairing
Connectivity
HDMI Ports x4
USB ports x3
RS232C x1
Wireless LAN built-in
Composite in (AV)
Component in: YPbPr
Ethernet LAN
Digital Audio out (Optical)
Anynet+ (HDMI-CEC)
Audio Return Channel Support (via HDMI port)
RF in (Terrestrial / Cable input)
Power
Power supply: AC110-120V 60Hz
Typical power consumption: 60W
Power consumption (Max): 165 W
Accessories
Remote control
Batteries
Mini wall mount support
Vesa wall mount support
User manual and E-manual
Dimensions (WxHxD)
With stand: 1226mm X 800mm X 376mm
Without stand: 1226mm X 713.2mm X 93.3mm
Weight
With stand: 20 kg
Without stand: 17.9 kg
Verdict: 9/10
Samsung 55″ 9500-series Curved SUHD TV available from R29,999
A big thank you to Caitlin Robertson and Corlette Bekker from Epic MSLGROUP for organising the TV review unit.