Over the past year, hard seltzers have exploded onto the South African market, and as a result there are now many options for those looking to enjoy the light, crisp, and fresh flavours of spiked sparkling water. Hard seltzers have given people who don't like beer, or wine, a low ABV option that's oh-so-drinkable and low on calories, making this summer the season of fruity seltzer.
One of the latest brands to throw its hat into the hard seltzer ring is Revel Hard Seltzer. Proudly produced in the Western Cape by VG Beverages, Revel is refreshing, light and low-calorie, with 4,5% alcohol per 300ml can. While Revel joins many other seltzer options on the market, there's a lot that sets the Revel Hard Seltzer range apart from the rest.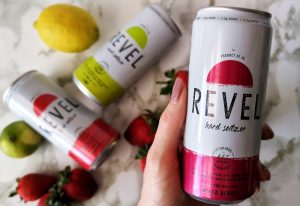 Also read: We Compare: Best Vodka Prices in SA
Not only is Revel the lowest calories per unit hard seltzer on the market (at just 77 calories per 300ml can), it also has the lowest sugar content per unit on the market (at just 0.3g Sugar per 300ml can). The seltzer is also vegan friendly and gluten-free. Most importantly, Revel is currently the only grape-spirit-based hard seltzer on the South African market, which is probably why it's so damn delicious.
The Revel hard seltzer range offers three flavours — Grapefruit, Mixed Berry, and Lime — so there's a flavour to suit every taste. While Revel markets its hard seltzer as having "only a hint of flavour', all three options are flavourful and refreshing with gentle carbonation. The flavours are lightly sweet, in the pleasant way sparkling water garnished with real fruit might taste sweet. Where many have failed at bringing a delicious hard seltzer to market, the Revel team have hit the nail on the head.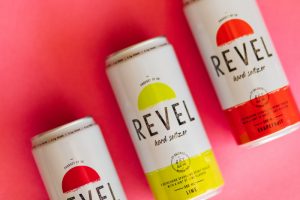 Also read: 7 Hard Seltzers to Try in South Africa
My favourite of the bunch is the grapefruit. It's thirst-quenching, highly quaffable, and subtly bitter with juicy citrus notes and carbonation bubbles that are soft on the palate and utterly refreshing. The flavour profile is beautifully balanced, and you can barely detect the alcohol.
The Lime, was a close second for me, it's a flavour I would be thrilled to throw back while relaxing poolside. It's Revel's best-selling flavour, and it's easy to see why. When I cracked open the lime can and took my first sip, I was beyond impressed. The flavour is very natural, and will no doubt be a winner for anyone who is a fan of tart flavours. If you're a brave soul, then the Lime flavour will prove to be a great mixer for an easy vodka, lime, and soda (with an extra quick, of course!).
When compared to other hard seltzers on the market, Revel Hard Seltzers are no doubt the most flavourful. The flavours are still subtle, but they're infinitely better than most of the hard seltzers options on the market, where the flavour on the can is a mere suggestion. With Revel, you can clearly taste the fruit flavour and appreciate it.
Lightly carbonated, supremely refreshing, and delicious, Revel Hard Seltzer is certain to be the only spiked seltzer you'll be drinking this summer.
Find the best prices on hard seltzers and ready-drink-beverages online with PriceCheck now: