Great news for health-conscious drinkers, America's hottest beverage trend, the hard seltzer has arrived in South Africa. It's been a slow burn here in the republic; with the first hard seltzer arriving on local shelves in September last year. But, recently the trend has gone into overdrive and now there are more than a dozen hard seltzer options for consumers to choose from.
What is hard seltzer?
A hard seltzer is flavoured sparkling water spiked with alcohol. The soda water drink, with a kick, is low in calories and carbohydrates, and there are even some lower alcohol options available too. Offering a healthier alternative to the local alcoholic drinks market, hard seltzers are popular with drinkers who are watching their calorie intake. They also offer a convenient pre-mixed drink option for anyone who loves a classic vodka soda.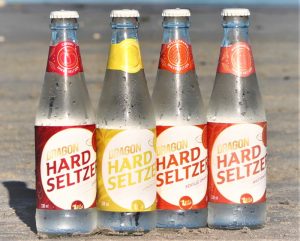 While many South Africans are choosing to live a healthier lifestyle by ditching processed sugar and eating a low-carb diet, when it comes to the weekends or after-work drinks, there aren't many healthier options out there for those who still want to enjoy a drink without all the empty calories. Popular favourites like a classic G&T pack a whopping 18g of sugar per glass while most refreshing ciders have almost 24g of sugar. Similarly, the WHO's daily recommended allowance for sugar is just 25 grams. It doesn't take a mathematician to figure out that those few drinks after work aren't doing you any favours.
Best hard seltzers available in South Africa:
If you're keen to get a taste of this trend here are our picks for the best hard seltzers available in South Africa. From small independent producers to big-name manufactures, you're bound to love one of these locally made options:
Savage Sparkles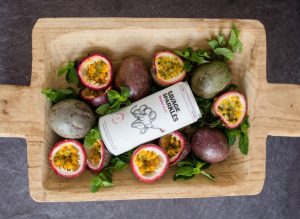 Savage Sparkles is a South African born brand with a mission to bring a healthier alternative to the local alcoholic drinks market. One of the first hard seltzers to hit the local market, this spiked delicious sparkling water is the ideal summer and winter sipper.
Also read: We Compare: Best Vodka Prices in SA
Savage Sparkles is a 5% alcohol beverage with only 3g of sugar, 3g of carbs and 100 calories in every 300ml can – all this without compromising on taste! The drink comes in two flavours — Passion Fruit and Lemon & Lime.
Freely
Freely is the latest new zero sugar, low alcohol hard seltzer to hit South African liquor store shelves. Crafted by a small, independent local producer, Freely is a proudly South African sparkling water with a splash of premium distilled vodka and pure fruit taste. The drink is available in three refreshing flavours – zesty Lime, perky Peach and a burst of Wild Berry.
What sets Freely apart from other hard seltzers, is its lower alcohol content (just 3%), lower calories (23 kilocalories per 100ml), and zero sugar recipe. As a spirit-based drink, Freely is also gluten-free and vegan friendly, ticking all the right boxes for health-conscious drinkers.
Frost Sparkles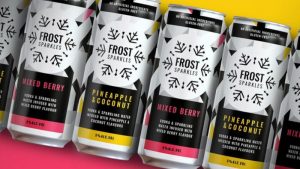 From the dynamic duo that brought the first-ever alcoholic frozen popsicles to the South African market comes a range of canned, all-natural spiked sparkling waters.
Also read: We Compare: Best Tequila Prices in SA
Blended with purified sparkling water, infused with natural flavours, and sweetened with fructose, Frost Sparkles is available in two flavours — Mixed Berry, and Pineapple & Coconut. With 5% alcohol content, the low-calorie drink is a great choice for health-conscious drinkers. Each can contains under 90KJ per 300ml can, making it the perfect alternative to sugary ciders and alcopop drinks.
Vawter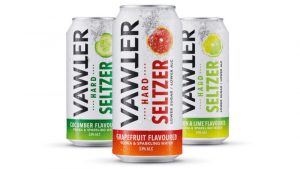 Recognising hard seltzers as a growing trend in South Africa, Distell has thrown its hat into the ring with the launch of Vawter. This range of soda water spirit coolers is made with a dash of vodka and infused natural fruit flavours. Vawter is low in sugar and low in alcohol content (3.5%).
The range includes three deliciously fun and refreshingly light natural flavours — juicy Grapefruit, refreshing Cucumber and zesty Lemon and Lime.
Find the best prices on hard seltzers in South Africa on PriceCheck now:


Flying Fish Seltzer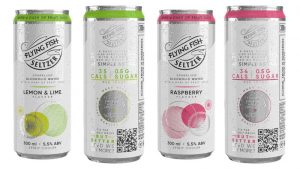 SAB has also announced that it will be bringing a hard seltzer into the market under the Flying Fish brand. The 5.5% abv drink comes in a 300ml slim can with two flavour varieties — Lemon & Lime and Raspberry. The drink contains 0.5g sugar per 100ml and 35 calories per 100ml. By comparison, 100ml of Flying Fish beer contains 5.6g of sugar and double the calorie count.
Made with water, alcohol, fine bubbles, and a dash of fruit juice, this drink delivers refreshment for any occasion. The Flying Fish seltzer hit South African shelves in April.
Rock Hopper Hard Seltzer
Breaking new ground in the South African refreshment sector with its fresh, fruity, spiked water that's all fun and no fuss, Rock Hopper Seltzer was one of the first hard seltzers to hit the market in South Africa.
Low-calorie, low-carb, and gluten-free, without losing its 5% let's-party kick, this spiked soda water is a firm favourite with many health-conscious drinkers. Rock Hopper offers four flavours that capture the best of summer — Black Cherry, Litchi, Lemon Lime, and Mango.
Dragon Hard Seltzer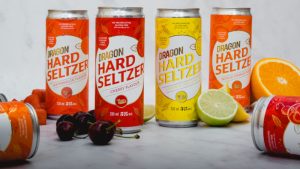 After much success with Fiery Dragon alcoholic ginger beer, local producer, Distillers Union is back with yet another innovation — Dragon Hard Seltzer. The spiked sparkling water with a hint of fruit flavour offers 5% ABV, 100 calories per bottle, and only 2g sugar per 100ml. The drink is flavoured with natural flavours and has no preservatives, just pure refreshment. It's also gluten-free and low-carb.
Available in a range of flavours, including Lemon & Lime, Cherry, Watermelon, and Seville Orange. The drink is available in both 330ml cans, for easy drinking on the go, and in stylish 330ml bottles.
Find the best prices on hard seltzers in South Africa on PriceCheck now: