Soundbars have increased in popularity over the last few years and for many, the gadget is the go-to device for a premium sound solution at home. There are many options on the market to choose from, but not all soundbars are created equal. There are some very distinguishable differences that you should be aware of to help you navigate the choices and buy the right soundbar for your needs. Here's what you need to know before buy a soundbar in South Africa.
Beware of a great deal:
If the price is too good to be true, or so far off from its competitor's pricing, it's likely not a good choice. When it comes to speakers and soundbars, the cheapest soundbar is cheaper for a reason. As many manufacturers chase to reduce price points in the soundbar segment, it's important to know that this comes with a consequence. The more affordable soundbars typically mean you are getting a product that has a poorer sound quality, and the lowered priced options often don't have a subwoofer. The objective of adding a soundbar to your TV is to improve the audio quality, and many of the cheaper bars sound very much like an ordinary TV speaker.
Do your research when it comes to price point and opt for the best soundbar you can afford. You won't regret it in the long run.
Also read: 3 Must-Haves for the Ultimate At-Home Cinema Experience
Check for a wireless subwoofer
While some soundbars offer decent audio performance without the use of a subwoofer, when you add a subwoofer in the mix, the sound is greatly enhanced. Often, there isn't too big a different price between the price of a soundbar with a subwoofer and one without, so it may be worth the extra cost to splash out on a soundbar with a subwoofer feature.
Check the voice quality
For movie and TV series buffs, it's important to look for a soundbar that offers not only great sound but also improved voice clarity. Some soundbars offer voice adjust features, which is more than just a volume adjustment. This feature helps to improve the audio clarity for those times when the volume can't be too loud, yet you still need clarity, for the news and movies.
Also read: Top 5 Best Streaming Devices for 2020
Expand your world
You may want to consider investing in an additional set of wireless rear speakers to complement your soundbar. If you are looking to take the experience to a true surround sound experience, then many brands have compatible wireless speakers designed to pair to the already amazing soundbar and wireless sub. These speakers are optional extras but can also be bought as part of a complete kit which includes the soundbar, wireless sub and rears.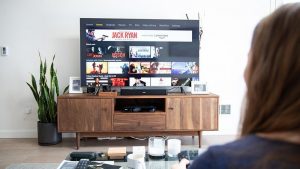 Don't forget about the fit and finish
If looks are important to you, then you will also want to consider the fit and finish of the soundbar you choose. Some manufacturers put a major emphasis on the build quality and design of their soundbars (in conjunction with audio performance) using real wood enclosures rather than plastic, and opting for premium details and design elements to make your soundbar into a show piece.
Consider expanded audio distribution
If you're looking to extend the audio experience to the rest of your home, consider investing in a range of compatible soundbars, wireless speakers, and other devices that work together, allowing audio sources to be shared around the home through compatible devices.
Find the best prices on soundbars and home theatre essentials online with PriceCheck now: