While local cinemas are set to reopen soon with safety measures in place, there's no denying that going to the movies won't be quite the same for a long time to come. Many of us won't feel comfortable visiting an indoor cinema theatre and will continue to end movies at home. Enjoying a cinema-like experience in the comfort and convenience of your home removes the risk factor involved in public outings. But, how do you bring some of the magic of the movies into your home? Here are three great upgrades to make to your entertainment centre for next-level viewing pleasure.
A smart TV that delivers premium quality image and sound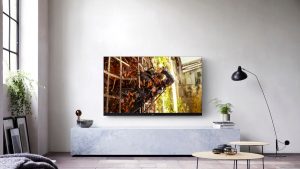 It goes without saying that the first thing you need for a stellar home cinema experience is a great TV. 4K, HDR and Dolby Atmos are three buzzwords to keep in mind when you're hunting for the perfect cinema-geared television.
We love the LG OLED C9 Series Perfect Cinema Screen 4K HDR Smart TV. It has everything you could want from a TV. Its immersive 65-inch screen offers sharp, photorealistic details, brilliantly vivid colours and intense blacks for an almost 3D-like viewing experience. What's more, built-in Dolby Atmos (created by the same company that develops the sound in many movie theatres) will transform your living room into a sound-effect powerhouse, delivering full cinematic sound whether it's music, explosions or the calls of nature. And as a smart, AI-powered device, it also understands natural language requests and learns from your behaviour, even recommending customised content based on your watching habits.
Find the best prices on smart TVs online with PriceCheck now:


Also read: Review: Hisense 65-inch ULED 4K Smart TV
An elevated sound system
Beyond finding a TV that comes with great sound, adding a separate soundbar or speaker system will boost your at-home cinema experience. Buying external speakers will come at an extra expense but it's worth it in the long run if you're serious about replicating that movie-house experience. For a surround-sound feeling, look for speakers that support Dolby Atmos, especially if your TV has the same technology built-in.
Find the best prices on home theatre essentials online with PriceCheck now:


4K content to match your 4K TV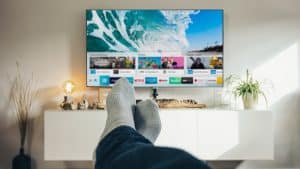 Investing money in an advanced 4K HDR TV means very little if you don't have an entertainment system that supports the technology. To reap the full benefits of 4K, you'll also need a 4K-optimised Blu-ray player or streaming media player. Look for 4K-resolution Blu-ray DVDs, digital downloads and streaming content for the best possible picture quality. It's important to note that 4K movies are large files, so a reliable and fast internet connection for 4K streaming is another factor to consider for your home cinema.
Find the best prices on home theatre essentials online with PriceCheck now:


Also read: Top 5 Best Streaming Devices for 2020