We get it; the last thing you want to be doing after a long day at work is think about preparing a meal. The thought alone can cause you to hop onto your favourite food delivery app and order something you know isn't the healthiest and will burn a hole in your wallet. So, what are your options if you still need to feed the family and want to spend some quality time with them before bed? Here are a few useful cooking and kitchen tips that will make mid-week cooking quick, easy, and just as convenient as ordering takeout.
Easy roasting without flipping
Roasted veggies with baked crumbed chicken steaklets are a favourite in many South African households. Add a couple of oven-baked French fries for the kids and you have a quick, effortless meal. But what if we told you there is a way to speed up the process and make it even more hands-off?
When preparing these types of oven-baked meals, the instructions typically say to flip the food halfway through for even browning. But if you heat the oven tray for a few minutes beforehand, the food will cook evenly and faster! This speeds up the cooking process, giving you more time to relax and unwind with the family without constantly needing to check on the food. It may seem like a simple thing but it's a step many people forget to do.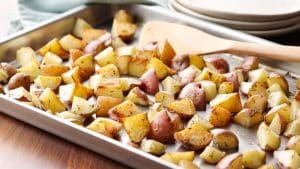 Wash your fruit and vegetables before putting them away
To save some time on cooking day, it's a good idea to prep the fruit and veg as soon as they enter your kitchen. It's easy enough to scrub the skins of root veggies with a brush, so you won't have to peel them later or quickly rinse leafy greens, pat them dry, and store them in a colander. A little preparation can go a long way to making your life a whole lot easier during the week.
Also read: Buyer's Guide: How to Choose the Right Fridge for Your Needs
Imagine how easy it will be if you have all your salad ingredients already neatly prepped and cut to your liking. From there it's as simple as opening a couple of storage containers and putting the dish together. It doesn't get easier than that!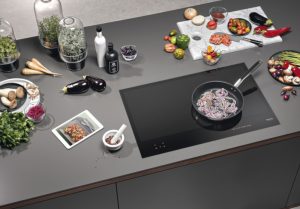 Rearrange your cupboards
Fumbling around your kitchen looking for the right pot or kitchen gadget isn't anyone's idea of a fun time; especially when you weren't really looking forward to cooking in the first place! Eliminate the headache of having to unpack the entire cupboard by storing items you use the most at the front.
Make sure all those essentials you rely on for preparing food in a jiffy are the easiest to grab. It just makes sense to store these items in front of things like that fancy platter you only use now and again. It's all about effective cupboard arrangement. Spend a day thinking about how to organise your space to work with you, not against you.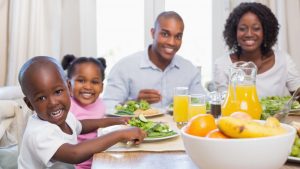 Pre-set the table
A clever way to help you save some time is to stack your clean dishes and cutlery on the dining table as soon as you finish washing them. Transfer the clean silverware from the drying rack or the dishwasher to a spot that's out of the way from being knocked over, and you'll always have a clean stack on hand when dinner is ready to be served. The only thing that's left is to dish up the next meal.
Invest in appliances that speed up cooking time
We're always looking for something new to help make our home life a little easier, right? If you hate slaving away in front of a hot stove then why not invest in kitchen appliances that do most of the work for you?
Appliances like the LG Neochef Convection boast 9-in-1 functionality and can do a number of tasks in the kitchen. From baking and roasting, to steaming and making biltong and of course warming dinner for the latecomers. features like Smart Inverter technology ensure that wide variety of dishes can be cooked at great speed, giving you more time to do the things you love.
Another great kitchen tool is an air fryer. If you're all about being healthy while spending as little time in the kitchen as possible, then an air fryer is probably the best investment you'll make. The popular cooking appliance allows you to make your favourite 'fried' foods and snacks with a fraction of the calories in the comfort of your own home. You can do it, french fries, 'fried' and basted chicken wings, chilli poppers… all without needing to use too much oil. That means you get the same delicious deep-fried taste and texture without all the grease. Check out our list of the Top 3 Best Air Fryers for Every Budget.
Find the best prices on kitchen appliances online with PriceCheck now: