Whether you are a bachelor living alone or a large family with lots of hungry mouths to feed, a refrigerator is one of your home's most important appliances. However, not all refrigerators are created equal — there are a number of things that need to be considered when buying a fridge for your home — from door style to energy efficiency, brand and of course size. Not sure where to start? Here are a few tips to help you buy the right refrigerator for your needs.
Consider the brand
The first thing you'll want to do when deciding on a fridge is to choose a trusted brand that has earned a reputation for manufacturing quality and reliable appliances over time, such as Miele, Samsung, or Defy for example, which has been involved in manufacturing appliances since 1899. Investing in a trusted brand will give you peace of mind that you are purchasing a quality refrigerator, and that if the need arises, you will be able to get your appliance serviced and repaired down the line.
Trusted brands will also be able to offer some kind of guarantee on their products. Miele, for example, is the only manufacturer to offer a full warranty of up to 10 years. You will incur no additional cost during this time period for repairs not caused by a fault of your own. You can sign up for the contract any time during the 2-year manufacturer's warranty.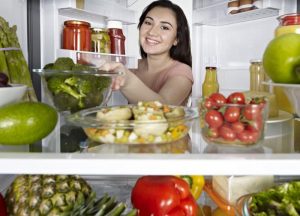 Consider size
Before you decide on anything, you will also need to assess what size refrigerator will fit your kitchen space and your needs: The size of the appliance must not only be adequate for your food storage needs, but it needs to fit into the available space in your kitchen. This is especially important if you are purchasing a refrigerator for an existing kitchen, where the space is already defined. Many of the big manufactures offer a wide variety of free-standing refrigerator sizes so be sure to measure the space before you buy a fridge.
Aside from dimensions, the appliance's holding capacity, which is measured in litres, is also very important to explore. As a general rule of thumb, 50 -80 litres capacity is adequate for single individuals, 150 – 250 litres is suitable for a family of 3, while 250 – 330 litres and above is ample for a family of 5-plus.
Find the best prices on fridges online with PriceCheck now:


Consider style and construction
Now that you know the brand and the size, it is time to narrow down whether you would like a single fridge-freezer, or if you would prefer a side-by-side configuration instead. You also need to consider whether you would prefer a free-standing, integrated or built-under option:
Free-standing appliances: As well as the design aspect, the advantage of free-standing appliances is that they can be easily taken along with your when moving and installed in your new kitchen.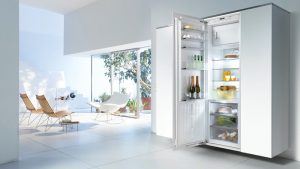 Built-in appliances: If you would like to integrate your refrigeration appliance into the design of your kitchen cabinetry, built-in or integrated appliances are a must-have. Built-in appliances can be fitted with a front panel to match your kitchen cabinetry, or with a stainless steel front so they fit perfectly into your kitchen design.
Built-under appliances: Built-under appliances can be installed under a worktop and are especially useful in small kitchens, or as extra refrigeration storage in larger kitchen spaces.
Consider colour and finish
Colour and finish is another major design consideration. With the rise in popularity of open-plan living, so is the appearance of our kitchen's large appliances becoming increasingly more important. This is why integrated appliances are becoming so sought after. However, if you don't want your refrigerator to blend in with your kitchen cabinetry, then you will need to select which finishes and colours would best complement your kitchen's décor.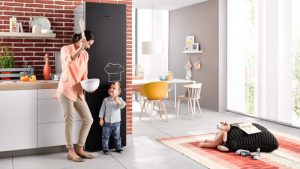 If design is important to you, then look for a handleless, linear design. There are a number of different finishes to consider when choosing a colour and finish. These include:
Gloss white: For bright kitchens with style, Miele, for example, offers free-standing refrigeration appliances with a brilliant white glass front for a sleek and elegant look.
Black: A high-quality glass front finish in black will look great in a sleek, modern kitchen.
Stainless steel/CleanSteel: Appliance fronts in CleanSteel stainless steel are characterised by their high-quality appearance and are particularly easy to clean. A special surface finish makes fingerprints virtually invisible on CleanSteel and no special cleaning agents are required.
Stainless steel look: Refrigeration appliances in stainless steel look are an elegant touch in your kitchen. The lacquered surface works especially well in kitchen designs with matt metal details.
White: White lacquered refrigeration appliances are the classic option for modern, as well as traditional kitchen designs. They work especially well in light surroundings.
Consider efficiency and sustainability
With the ever-rising cost of electricity, investing in an energy-efficient refrigerator is essential. Not only for your pocket, but seeing that it is one of the few household appliances that runs 24/7-365, it is important for the environment as well. Look for features like energy-saving compressors and long-life FlexiLight LEDs.
However, it is not just about looking at the appliance's energy rating: One should also look at the lifespan of the appliances. Many of the bigger brand fridges are designed and tested to last for a minimum of 20 years, which is far longer than the average 7-year lifespan of most appliances. This goes a long way to reducing the overall carbon footprint of the appliance.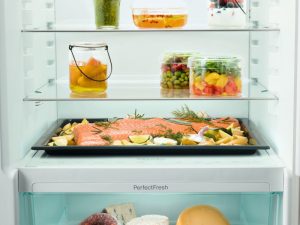 Consider the added features
Lastly, it's time to consider any additional features that are important to you. Refrigerator appliances come with a myriad of interesting added features. If you're looking for some nice-to-have additional features consider the following:
A built-in ice maker, dishwasher safe components for easy cleaning, and a gentle closing features that allow the fridge door to gently close on its own.
Find the best prices on fridges online with PriceCheck now: