If you're all about being healthy while spending as little time in the kitchen as possible, then an air fryer is probably the best investment you'll make. The popular cooking appliance allows you to make your favourite 'fried' foods and snacks with a fraction of the calories in the comfort of your own home. You can do it, french fries, 'fried' and basted chicken wings, chilli poppers… all without needing to use too much oil. That means you get the same delicious deep-fried taste and texture without all the grease.
But, with so many air fryers on the market how do you pick the best one for your needs and budget? We've compiled a list of the best air fryers on sale in South Africa to help make the decision a little bit easier. This list includes a variety of different sizes, features, and prices to help meet everyone's needs and budget.
Check out our list of air fryers below and find out which brand and price is best for you.
What is an air fryer and how does it work?
Simply put, it's deep frying without the oil. While a deep fryer flash heats food in a bath of super hot oil, an air fryer uses a convection fan to surround the food with hot air instead of oil. The air bounces off of the bottom of the air fryer and back up through the food, cooking it all over to create that crisping effect in just minutes.  Not only are you getting that coveted taste and texture without the part that makes it unhealthy, but you're getting it in half the time.
But it's not just fried foods, air fryers can also grill, roast and even bake, giving you even more options in the kitchen. An air fryer can be used for a wide range of things like grilling a steak or even baking a pizza. It's like having a combo oven and deep fryer, except it fits on your counter and doesn't require frozen food to be thawed before cooking. Most fryers are also made of non-stick material and are dishwasher safe which helps make for a quick and easy clean up.
Philips TurboStar Airfryer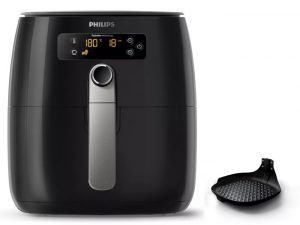 The Philips Viva Turbostar Airfryer is a solid, dependable, air fryer at a great price for what it offers. It utilises TurboStar technology to circulate hot air faster to thoroughly cook your dishes quickly. You don't even need to flip the food while it's cooking. It also means that the Air Fryer is instantly hot and ready to use when you turn it on.
The air fryer also has a QuickClean basket with a removable non-stick mesh so it's easy to clean, and it's dishwasher safe. It's smaller than other Philips air fryers so most kitchens will have plenty of room for it. It's still big enough to make up to 4 servings though, making it ideal for the average family.
Find the best price on the Philips Viva Turbostar Airfryer online with PriceCheck now:


Copper Chef 2 QT Air Fryer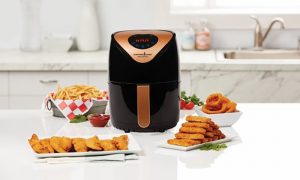 The Copper Chef 2 QT Air Fryer is the ultimate power air fryer. Boasting a stylish design, it will look great on your kitchen counter too! The Copper Chef air fryer uses a unique 'Rapid Air Technology' that helps you prepare healthier meals by cooking your food with turbo cyclonic air in place of a whole lot of oil or butter. The appliance can generate up to 400-degrees of heated air, enabling you to bake, sauté, air fry, roast, grill, or steam your food to perfection.
The air fryer also features time and temperature controls which enable you to set the required cooking time and temperature according to the food that you're cooking. Furthermore, the air fryer also features a digital timer with an automatic shut-off function that prevents the food from burning or getting over-cooked.
It comes with a 1.8-litre easy load basket where you can keep and prepare a variety of dishes, such as roasts, puddings, tacos, fries, etc. This basket has a fine layer of non-stick coating that greatly prevents the food from sticking to its bottom or the surface of the air fryer.
Find the best price on the Copper Chef air fryer online with PriceCheck now:


Russell Hobbs Purifry Max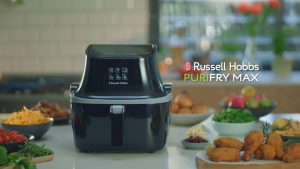 The Russell Hobbs Purifry Max is a super powerful air fryer for home use. The appliance heats up to 200°C for fast and evenly cooked meals and the pause and stop buttons allow you to remove the inner pot while cooking and then resume cooking where you left off when the pot is returned. The appliance uses patented Cyclone Heating technology for faster and healthier cooking at home. If you're all about convenience, use the Smart Memory technology to save your settings for favourite meals.
With a 3.2 Litres capacity, this air fryer is big enough to fit a whole chicken or 500g of potato chips, making it  is perfect for a large family. Russell Hobbs Purify Max also comes with a handy basket divider so you can split the basket in two, to cook two different foods at the same time without them bumping into each other. It's also simple to use and easy to clean and features an innovative detachable and dishwasher safe heating element.
Find the best price on the Russell Hobbs Purifry Max online with PriceCheck now:


Compare prices on a wide range of air fryers and accessories online with PriceCheck now.