Need something new to watch? You're in luck because there's plenty to keep you busy on Showmax this month. For binge-watchers, there's a long list of new series that hit the streaming platform in February. But what should you watch first? Here are our picks for the 5 best new international series on Showmax this month.
Raised by Wolves S1
The biggest TV series ever shot in South Africa, Raised by Wolves is an HBO sci-fi show that centres on two androids tasked with raising human children on virgin planet Kepler-22b after earth was destroyed in a great war.
Four-time Oscar nominee Ridley Scott, who directed the sci-fi classics Alien, Blade Runner and The Martian, executive produces and directs the first two episodes. Raised by Wolves has already been nominated for three 2021 Critics' Choice Super Awards: Best Science Fiction/Fantasy Series, Best Actor: Sci-Fi for Travis Fimmel (Vikings' Ragnar) and Best Actress: Sci-Fi for Danish actress Amanda Collin.
Face Off: Decoder vs Online Streaming – Which is Better?
The Stand
Binge episodes 1-4 now and eps 5-9 from 16 March
Based on Stephen King's bestselling novel, The Stand is an apocalyptic vision of a world decimated by plague and embroiled in an elemental struggle between good and evil. The fate of mankind rests on the frail shoulders of the 108-year-old Mother Abagail (Oscar winner Whoopi Goldberg) and a handful of survivors. Their worst nightmares are embodied in a man with a lethal smile and unspeakable powers: Randall Flagg, the Dark Man (Golden Globe winner Alexander Skarsgård).
The stellar ensemble cast includes 2020 Emmy nominee Jovan Adepo (Watchmen), People's Choice winner Katherine McNamara (Maze Runner), MTV Award winner Heather Graham (Boogie Nights), Teen Choice winner Nat Wolff (The Fault In Our Stars), MTV Awards nominees Amber Heard (Aquaman) and James Marsden (Westworld), Oscar nominee Greg Kinnear (As Good As It Gets), Golden Globe nominee Irene Bedard (Westworld), Sundance winner Brad William Henke (Orange Is The New Black), and rising star Owen Teague (It, Mrs Fletcher).
Bosch S6
Based on Michael Connelly's best-selling crime novels The Overlook and Dark Sacred Night, Season 6 of Bosch finds Harry Bosch (Titus Welliver) at the centre of a complex murder case, a messy federal investigation, and a catastrophic threat to Los Angeles. Meanwhile, Edgar (Jamie Hector) sets about cleaning house and Irving (Lance Reddick) kicks off his mayoral campaign.
The ever-popular Emmy and Saturn Award-nominated series is still one of TV's top addictions. Guest stars this season include Tzi Ma (Mulan, The Man in the High Castle), and Julie Ann Emery (Better Call Saul, Preacher). Bosch has been renewed for a seventh and final season.
Also read: Top 5: Best Streaming Devices for 2020
High Maintenance S3 & S4
Still keeping spirits high and rolling with the times, comedy anthology series High Maintenance follows New York's most chilled-out deliveryman and weed dealer as he visits his clientèle, dipping into the lives of people across New York.
High Maintenance is co-created by Emmy-winning casting director Katja Blichfeld (30 Rock) and series star Ben Sinclair, who plays Rufus Mann, aka The Guy. The anthology format lends itself to a host of guest appearances, including Britt Lower (Future Man, Casual) in Season 3 and Golden Globe nominee and BAFTA winner Rebecca Hall (Tales from the Loop), Emmy nominee Nick Kroll (The League), and Ken Leung (Industry) in Season 4.
The Rookie S1 & S2
The Rookie stars multiple People's Choice Award winner Nathan Fillion (Castle, Firefly) as John Nolan, who is pursuing his dream to join the LAPD after a divorce. But as their oldest rookie, he's met with skepticism from those who see him as just a walking midlife crisis.
Created by Alexi Hawley (Castle and The Following), this easy-to-love police procedural has an 8.1/10 score on IMDb and was nominated for a 2020 Emmy award for its stunt work.
The cast includes Alyssa Diaz (Ray Donovan's Teresa), Melissa O'Neil (Dark Matter, Condor), Eric Winter (The Mentalist), and Black Reel nominee Richard T. Jones (Santa Clarita Diet). Also look out for guest appearances from the likes of Alan Tudyk (Firefly), Enver Gjokaj (Avengers), Felicia Day (Supernatural), and Seth Green (Robot Chicken), as well as celeb cameos from the likes of Ryan Seacrest, Katy Perry, will.i.am and Lionel Richie.
Stream Showmax with the new DStv Explora Ultra decoder: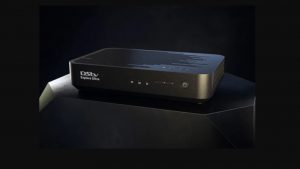 DStv has launched its Explora Ultra decoder with new features, including built-in access to Netflix and other popular streaming apps. According to DStv, key features of the decoder include, built-in WiFi capabilities, support for 4K Ultra HD and Dolby Atmos, a new DStv remote; as well as integration of app-based streaming services including Showmax and Netflix. More third-party streaming services are expected to be included later. DStv said that customers will also have the option to pay for their Netflix subscription in their monthly bill.
Find the best prices on the DSTV Explora Ultra and media boxes online with PriceCheck now: