Nothing says winter relaxation like curling up on the couch to watch a riveting series or movie. Let's be honest, winter was made for binge-watching series and movies. Plus, with the seemingly never-ending national lockdown, you'll have loads more time to enjoy your couch and your TV this month. Not sure what to watch on Showmax? Here are our picks for the best international series and movies coming to the streaming platform in July.
BEST INTERNATIONAL MOVIES
Joker
Joker centres on Arthur Fleck, a man struggling to find his way in Gotham's fractured society. A clown-for-hire by day, he aspires to be a stand-up comic at night… but finds the joke always seems to be on him. Caught in a cyclical existence between apathy and cruelty, Arthur makes one bad decision that brings about a chain reaction of escalating events in this gritty character study of the iconic arch-nemesis.
Directed by Todd Phillips (The Hangover), Joker also stars Oscar winner Robert De Niro (Raging Bull,The Godfather: Part II), Emmy nominees Zazie Beetz (Deadpool 2, Atlanta) and Bill Camp (The Queen's Gambit, The Night Of), Golden Globe winner Frances Conroy (Six Feet Under, American Horror Story), and three-time Screen Actors Guild Award winner Shea Whigham (Boardwalk Empire, American Hustle).
Just Mercy
Emmy nominee Michael B Jordan (Black Panther, Creed) and Oscar winners Jamie Foxx (Ray, Baby Driver, Django: Unchained) and Brie Larson (Room, Captain Marvel) star in Just Mercy, about a civil rights defence attorney working to free a wrongly condemned death row prisoner.
Award-winning filmmaker Destin Daniel Cretton (Short Term 12, The Glass Castle) directed Just Mercy from a screenplay he co-wrote, based on the award-winning non-fiction bestseller by Bryan Stevenson.
Just Mercy has an 85% critics rating on Rotten Tomatoes and won 2020 NAACP Image Awards for Best Film, Best Actor (Jordan) and Best Supporting Actor (Foxx), as well as the Freedom of Expression award from the National Board of Review and audience awards at Mill Valley, St, Louis and Virginia film festivals, among other awards. Just Mercy was also nominated for 2020 Black Reel, Screen Actors Guild and BET Awards, among others.
Face Off: Decoder vs Online Streaming – Which is Better?
Robin's Wish | Stream from 16 July
Ahead of what would have been legendary Oscar-winning comedian Robin Williams' 70th birthday on 21 July, the documentary Robin's Wish tells the story of what really happened to one of the greatest entertainers of all time – and the devastating disease his mind was fighting in the lead up to his tragic suicide in 2014.
Featuring interviews with the people who knew and loved Robin, from his widow, Susan Williams, to the many directors who worked with him, the documentary offers an emotional look at the end of a life suddenly cut short, and pays warm tribute to the brilliant legacy that was left behind.
The Way Back | Stream from 15 July
Back in high school, Jack Cunningham (Oscar winner Ben Affleck from Argo) had everything going for him. A basketball phenomenon, he could have punched his ticket to college or even the pros, but, instead, he chose to walk away from the game, forfeiting his future.
Jack's glory days are long gone but, as it turns out, not forgotten. Years later, he gets the chance to take back his life when he is asked to coach the struggling basketball team at his alma mater. Jack reluctantly accepts, surprising no one more than himself. As the boys start to come together as a team and win, Jack may get his last shot at redemption…
Directed by Gavin O'Connor (Warrior, The Accountant), The Way Back earned Affleck a 2020 People's Choice and 2021 Critics Choice nomination, among other honours.
Also read: Top 5: Best Streaming Devices
Greenland| Stream from 22 July
MTV Movie Award winner Gerard Butler (300, Angel Has Fallen) and Emmy nominee Morena Baccarin (Homeland, Deadpool) must survive a planet-killing comet in the action drama Greenland, directed by Ric Roman Waugh (Angel Has Fallen).
Empire calls Greenland not only "Butler's best star vehicle in years" but also "one of the best disaster movies in years."
BEST INTERNATIONAL SERIES
Baghdad Central S1
It's 2003 in Baghdad Central: Saddam Hussein has been ousted, Iraq is under foreign control, and tensions run high. Waleed Zuaiter (Altered Carbon, The Men Who Stare at Goats) plays Muhsin al-Khafaji, a former police inspector who has lost everything except his determination to find his missing daughter Sawsan (Leem Lubany from Condor). But to find her, he'll have to choose a side..
Executive produced by Emmy nominee and BAFTA winner Kate Harwood and written by BAFTA nominee Stephen Butchard (House of Saddam, The Last Kingdom), Baghdad Central is a must-watch multilingual geopolitical thriller with a sense of humanity.
The six-episode miniseries also stars Golden Globe nominee Corey Stoll (Billions, Ant-Man, House of Cards).
The Goes Wrong Show S1
Theatrical hilarity and farce get the full treatment in the recently renewed six-episode British comedy series The Goes Wrong Show. Developed by British theatre company Mischief Theatre, which produced the acclaimed The Play That Goes Wrong, each half-hour episode of The Goes Wrong Show delivers a new theatrical catastrophe in a different genre, presented by the fictional Cornley Polytechnic Drama Society.
Financial Times gave it a five-star review, saying, "This stuff has to be directed and performed with pinpoint accuracy if it's to succeed. Fortunately, it's perfectly, deliberately, terrible."
"While every mistake here is, of course, meticulously planned," comedy website Chortle says, "they are pulled off with enough flair, commitment and occasional ingenuity to break all but the most cynical of viewers to laughter."
Avenue 5 S1 | Binge from 16 July
HBO sci-fi comedy Avenue 5 follows the beleaguered crew and spoiled tourists aboard a space cruise ship that gets thrown off course, turning an eight-week trip around Saturn into a three-year journey back to Earth. Labelled "galactically good" by Independent (UK), Avenue 5 has already been renewed for a second season.
Created by Oscar nominee and Emmy and BAFTA winner Armando Iannucci (who brought us Veep, The Thick of It and The Personal History of David Copperfield), the show's cast is led by Golden Globe winner and 10-time Emmy nominee Hugh Laurie (House M.D., Catch-22), and Annie and Grammy Award winner Josh Gad (the voice of Frozen's Olaf).
The cast also includes Nigerian-born BAFTA nominee Nikki Amuka-Bird (Luther), Teen Choice nominee Himesh Patel (Yesterday), and BAFTA winners Rebecca Front (The Thick of It) and Daisy May Cooper (This Country).
Also read: 5 Movies & Series to Catch on Netflix this July
Painting with John | Binge from 19 July 2021
"I was hoping this show would be educational, but I really don't know what the f*ck I'm doing," says John Lurie, co-founder of musical group The Lounge Lizards.
Painting With John, a new unscripted series written, directed by and starring Lurie, is part meditative tutorial, part fireside chat. Each episode has Lurie at his worktable at his home in the Caribbean, honing his watercolour techniques and sharing what he's learned about life. With images of Lurie's paintings, original music and his point of view all rolled into one, the series strikes an irreverent tone while reminding us to prioritise some time every day for creativity, fun and a bit of mischief.
Young Rock S1 | Binge from 26 July
Even the world's biggest star started out small. Young Rock is a sitcom based on the life of Dwayne Johnson (aka The Rock), going back to his roots as a 10-year-old in Hawaii, his high school years in Pennsylvania, and his University years in Miami, all within the (as yet) fictional framework of the actor and pro wrestler running as a candidate in the 2032 US Presidential Election.
Already renewed for a second season, the series offers an endearing peek behind the curtain of both Dwayne Johnson's childhood and the wild world of wrestling.
Stream Showmax with the new DStv Explora Ultra decoder: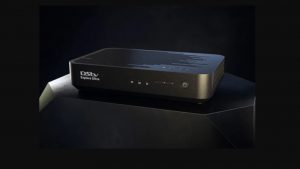 DStv has launched its Explora Ultra decoder with new features, including built-in access to Showmax, Netflix and other popular streaming apps. According to DStv, key features of the decoder include, built-in WiFi capabilities, support for 4K Ultra HD and Dolby Atmos, a new DStv remote; as well as the integration of app-based streaming services including Showmax and Netflix. More third-party streaming services are expected to be included later. DStv said that customers will also have the option to pay for their Netflix subscription in their monthly bill.
Find the best prices on the DSTV Explora Ultra and media boxes online with PriceCheck now: