Exciting news, the much loved Vans Needlework-Inspired footwear and apparel is back! Vans Anaheim Factory collection allows the brand to revisit the archives and pay homage to over 55 years of design history and heritage of Vans footwear and apparel. This season, Vans Anaheim Factory collection is referencing the past with an assortment of footwear and apparel inspired by the original needlepoint product offering that customers were able to help craft and design. The Anaheim Factory Needlework Collection is available to shop in South Africa now.
Creativity and self-expression have been at the core of Vans' brand ethos since its inception. From the mid '70s through the 1980s, as part of Vans' custom footwear offering the brand sold needlepoint kits which allowed customers to pick their own pattern or create their very own do-it-yourself designs to match their outfit or mood which would then be brought back to the factory to customise your own pair of Vans.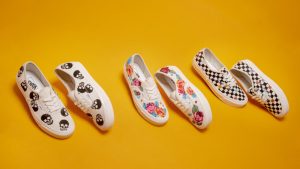 Also read: 4 Gift Ideas for Sneakerheads
Continuing this tradition, Vans delivers a three-piece footwear assortment inspired by these relics from the brand's past across the brand's very first deck shoe, the Authentic 44 DX. Available in 3 prints including a vintage-inspired floral, skull, and multi-colour checkerboard pattern, the Authentic showcases a natural woven textile upper which has been carefully printed to capture the essence of the original needlework designs. Each Authentic is finished with a tonal marshmallow outsole and an OrthoLite sockliner.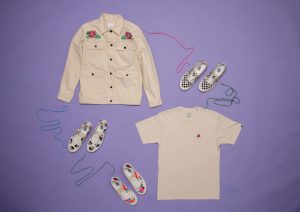 Also read: How to Choose the Right Running Shoes for Your Needs
The Anaheim Factory Needlework Collection is complete with accompanying apparel that carry over the same heritage designs from the footwear including the Anaheim Needlepoint Floral Jacket which is fabricated with natural cotton canvases and has shoulder embroidery details along with the Anaheim Needlepoint short sleeve with a floral chest embroidery.
The Anaheim Factory Needlework Collection landed in South Africa on 18 June.
Find the best prices on Vans sneakers online with PriceCheck now: