If you want the best action camera, you're spoilt for choice in South Africa. Most people would simply go for the best GoPro in their budget, but there are plenty of action camera alternatives to GoPro that may be better suited to your needs. Of course, whether you choose to go for a GoPro or another action camera brand, making the choice between them can be tough. To make your choice a little easier, we've rounded up our top 3 picks for the best action cameras in every budget.
Best overall: GoPro Hero 8 Black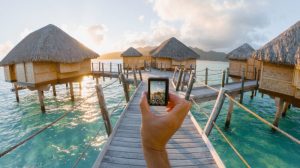 Thanks to customisable menus, cageless design, and improved software, GoPro's flagship Hero 8 Black is indeed a stand out choice in the action camera game. For serious adventurers, this action camera is in a class of its own. This new model offers loads to get excited about. The camera's fold-out feet mean that you have a camera mount built-in rather than having to use a separate accessory. Plus, HyperSmooth stabilization, now available in all video modes, and the ability to capture RAW images even in time-lapse make it the best action camera you can get, if your budget will stretch to it.
Find the best price on the GoPro Hero 8 Black online with PriceCheck:


Best for 'selfies': DJI Osmo Action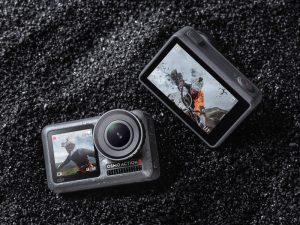 Best known for its camera drones, DJI has entered the action camera game with a worthy GoPro alternative, especially for those who love a good video selfie. DJI's may be a newcomer to the action cam field but the brand's entry into the action camera game arrives with all the pedigree of DJI's drone cams behind it. A real highlight this action cam is the full-colour dual touchscreen LCD display, which makes framing selfies much easier. The Osmo Action has excellent image stabilization and an HDR video option that opens up shadows in difficult, backlit shots and boasts a 1/2.3-inch 12-megapixel CMOS sensor. It's also compatible with most action camera mounts and accessories. The Osmo Action does a good job of giving the GoPro a run for its money and is one of the best action cams for selfie sequences or vlogging.
Find the best price on the DJI Osmo Action online with PriceCheck:


Best for underwater adventures: Olympus Tough TG-6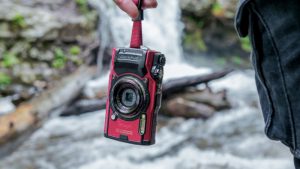 A bit of a water baby? The Best Olympus Tough TG-6 is a great alternative to a traditional action cam. While it's not a strap-it-to-your-head type of camera, if you're shooting underwater then this is your best bet. Featuring a 12MP backlit 1/2.3-inch sensor, this camera produces impressively high-quality images and video. This camera is also seriously tough. It's freeze-proof, crush-proof, dustproof, and shockproof. It also has traditional camera features you won't find elsewhere, like focus stacking for close-ups, an extensive set of add-ons, extra lenses, and even an underwater case that extends its depth rating.
Find the best price on the Olympus Tough TG-6 online with PriceCheck: