Meat-Free Mondays are a great way of showing you care for the planet. By simply choosing one day out of the week to go without meat, you will play an enormous role in lowering carbon emissions and reducing global warming . And if you're wondering whether you can actually make it a day without your chicken or beef, we have sorted you out with some of the most delicious vegetarian/vegan meals. Check it out.
Skinny Lasagne Rolls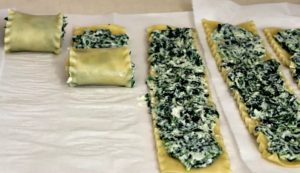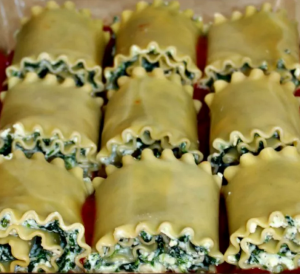 *Recipe sourced from Tabler Party of Two.
Ingredients

9 lasagna noodles, cooked

10 oz frozen chopped spinach, thawed and drained

15 oz fat free ricotta cheese

1/2 cup grated Parmesan cheese

1 egg

salt and fresh pepper

32 oz spaghetti sauce

9 tbsp (about 3 oz) part skim mozzarella cheese, shredded

 

Method

Preheat oven to 350°.

In a medium bowl, combine spinach, ricotta, Parmesan, egg, salt and pepper.

Spoon about one cup sauce on the bottom of a 9 x 12 baking dish (or use mini baking dishes if you want to freeze or share.

Place a piece of wax or parchment paper on the counter and lay out lasagna noodles.

Make sure noodles are dry.

Spread 1/3 cup of ricotta mixture evenly over noodle.

Carefully roll and place seam side down onto the baking dish.

Repeat with remaining lasagna noodles.

Spoon sauce over the noodles in the baking dish and top each one with 1 tbsp mozzarella cheese. Put foil over baking dish and bake for 40 minutes, or until cheese melts.

Makes nine lasagna rolls.

To serve, ladle a little sauce on the plate and top with lasagna roll.
ZUCCHINI CAULIFLOWER FRITTERS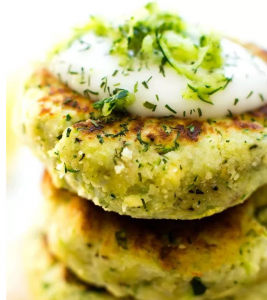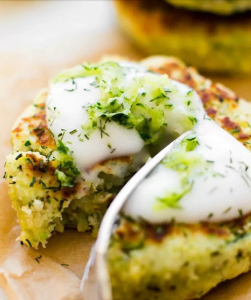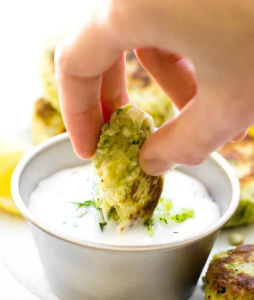 *Recipe sourced from The Big Man's Worlds.
Ingredients

Egg-Free version

1/2

head

cauliflower

approximately 3 cups, chopped

2

medium

zucchini

1/4

cup

all-purpose or gluten-free flour

1/

1/2

tsp

sea salt

1/4

tsp

black pepper

 Method:

Grate the zucchini in a food processor.

Steam the cauliflower for about 5 minutes until just fork tender. Add the cauliflower to the food processor and process until broken down into small chunks. Do not over process or it will become a mash.

Use a dishtowel or nut milk bag to squeeze as much moisture as possible out of the grated veggies. 

Transfer to a bowl and add the flour of choice, egg (if using), salt, pepper, and any other seasonings you like. Mix to thoroughly combine. Shape into small patties (I got about 8).

Heat up 1 tablespoon of coconut oil in a large pan. Add 4 fritters to the pan and cook over medium heat for 2-3 minutes per side. Repeat with the second half of the fritters. Serve with dipping sauce of choice.
Healthy Mexican Casserole With Roasted Corn and Peppers
Recipe sourced from Pinch of Yum.
INGREDIENTS:

2 red bell peppers

2 green bell peppers

1 jalapeno or 2 chipotle peppers (optional – just for more kick)

½ red onion

2 cups frozen corn

2 teaspoons chili powder

2 teaspoon cumin

salt to taste (about 1 teaspoon is a good ballpark measure)

2 cups Mexican cheese (mine was a Sargento blend)

18-20 corn tortillas

1 can refried beans

2 cups red enchilada sauce

cilantro, guacamole, or sour cream for topping

Method:

Pan-roast the veggies: Dice the peppers and mince the onions. Heat a large nonstick skillet with a little bit of oil over high heat (**note – I used to recommend using no oil, because that's what worked best for my with my Swiss Diamond nonstick pan, but several readers have ruined their own pans doing that so I am no longer recommending that!). Add the onion and peppers, sprinkle with chili and cumin, and stir, rest, stir, rest until you get a nice browning on the outside of the peppers. Remove and set aside. Repeat the roasting process with the corn, sprinkling with chili and cumin, removing from the heat when browned and roasted on the outside. Sprinkle the roasted veggies with a little bit of salt and toss to coat.
Prep the ingredients: Grease a 9×13 inch baking pan and preheat the oven to 400 degrees. Cut the tortillas into thin strips. Put the refried beans in a bowl and mix with a little bit of water to make them easier to spread.
Assemble: Spread a little bit of sauce on the bottom of the pan. Layer in order: half of the tortilla strips, ALL the beans, half of the veggies, half of the sauce, half of the cheese. Cover with the other half of the tortilla strips, veggies, sauce, and cheese.
Bake: Cover with foil (I usually spray mine with cooking spray) and bake for 15-20 minutes, until the sauce is bubbling and the cheese is melted. Serve with guacamole, fresh cilantro, sour cream, or anything in the world that you want.