"We appreciate the relentless passion of the Note community. They've been a constant inspiration to us and we designed the new Note for them," said DJ Koh, president of Mobile Communications Business, Samsung Electronics. "From the Infinity Display to the enhanced S Pen and a powerful Dual Camera, the Galaxy Note8 lets people do things they never thought were possible."
That's how Samsung is choosing to introduce the world to the Galaxy Note 8, the first Note since 2016's unfortunate Note 7.
The Note 8 shows that only has Samsung learned from what happened with the Note 7, but also that the company hasn't stagnated and continued to move forward and up their game in terms of design and innovation.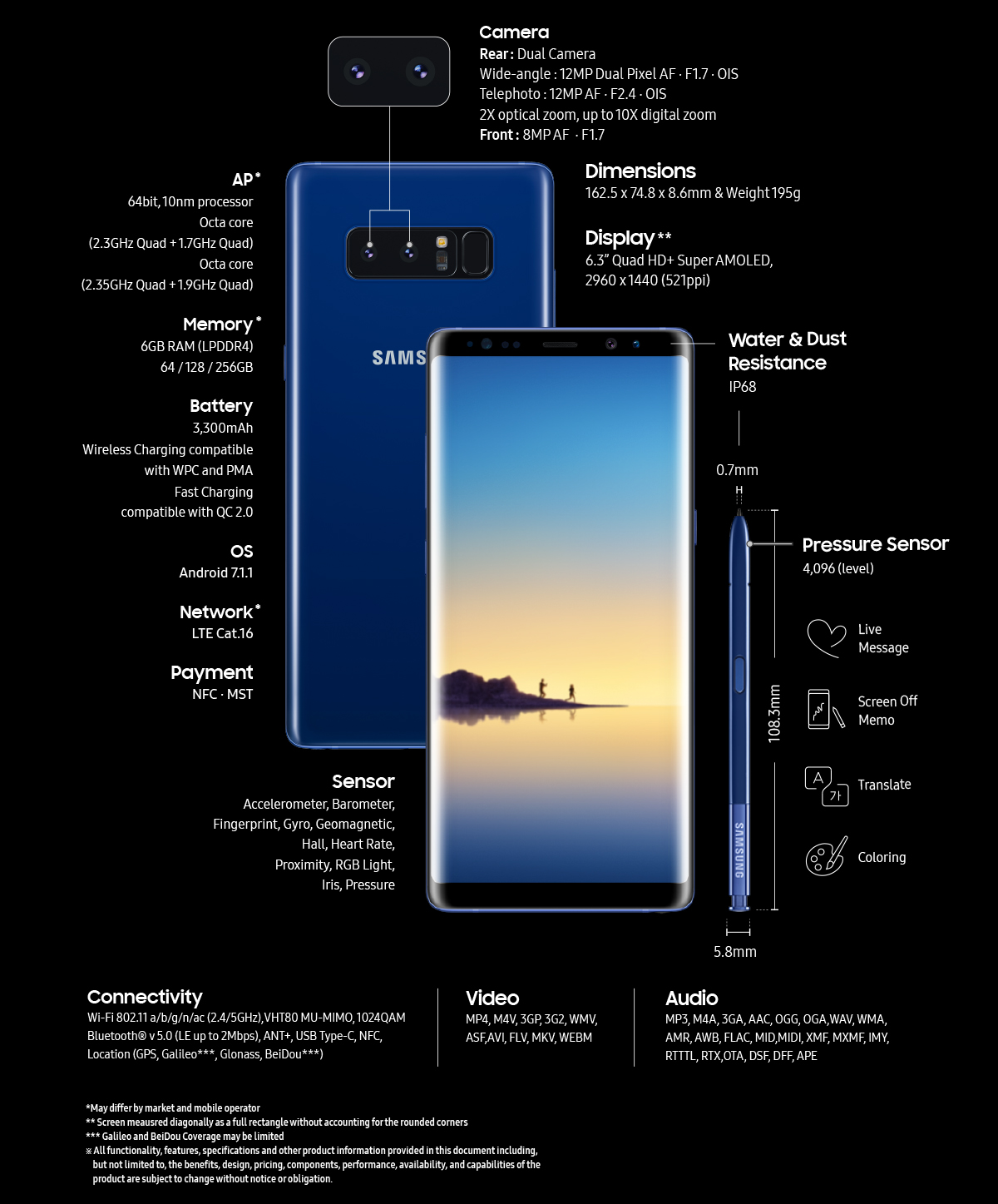 The Galaxy Note 8 has the biggest screen on a Note device, but because Samsung has gone with the bezel-less design and Infinity Display, it feels smaller than you'd think and is incredibly comfortable to hold in one hand.
New Features
App Pair lets you create a custom pair of apps on the Edge Panel and simultaneously launch two apps.
Live Message lets you share animated texts or drawings across platforms that support animated GIFs (very similar to what Apple currently does in iMessage on iOS 10).
Screen off memo lets you take up to one-hundred pages of notes as soon as you remove the S Pen, pin notes to the Always On Display and make edits directly from the Always On Display.
S Pen Translate lets you hover over text to quickly translate not only individual words, but entire sentences in up to 71 languages, and instantly convert units and foreign currencies.
Mobile Experiences
Samsung DeX enables a desktop experience, powered by your phone. You can keep your files on your device, conduct work on the go, and use Samsung DeX when you need an even bigger screen.
The Galaxy Note8 includes Bixby8, Samsung's AI assistant.
Camera
Samsung's Galaxy S8 has the best single lens smartphone camera I'd seen to date, with the Galaxy Note 8, Samsung implemented their rear-facing dual camera setup. The two 12MP rear cameras have Optical Image Stabilization (OIS) on both the wide-angle and telephoto lenses, making it the first smartphone with this technology on both lenses.
Galaxy Note 8 also has a new feature called Live Focus which lets you control the depth of field by allowing you to adjust the bokeh effect in preview mode and after you take the photo. In Dual Capture mode, both rear cameras take two pictures simultaneously and allow you to save both images; one close-up shot from the telephoto lens and one wide-angle shot that shows the entire background.
The wide-angle lens has a Dual Pixel sensor with rapid Auto Focus, so you can capture sharper, clearer shots even in low-light environments. The Galaxy Note 8 is also equipped with an industry-leading 8MP Smart Auto Focus front-facing camera for sharp selfies and video chats.
Battery
After the battery issues with the Note 7, Samsung ensured that all subsequent handsets, including the Note 8, went through their  8-Point Battery Safety Check —  which Samsung calls the most rigorous in the industry.
"We have been closely working with Samsung to make meaningful advancements in the science of smartphone quality and safety evaluation. As a result, the Galaxy Note8 has successfully completed a rigorous series of device and battery safety compatibility test protocols. We look forward to maintaining our strategic relationship with Samsung and helping ensure device safety for all consumers" said Sajeev Jesudas, President, UL International.
The Galaxy Note 8 will be available in South Africa from 22 September 2017 and will be offered in Midnight Black, Orchid Gray and Maple Gold.
The recommended retail price is R18 499.00