An outbreak of smallpox has left New York City in a state of a seemingly apocalyptic catastrophe. What caused the pandemic? This is what you're going to have to uncover, but be warned, in this dystopian atmosphere, anything can happen!
Platform: PS4
Genre: Third-person shooter
Game mode: Multiplayer
The Division is an online-only open-world RPG set in Manhattan, New York City.
The setting is Black Friday, a day that fraught with "retail wars" as shoppers scramble to get their hands on heavily discounted products. The chaotic events can go viral on the web, but on this day, things go viral, literally! A virus is implanted  on banknotes, sweeps the city quicker than the products fly off the shelves; New York City has to be quarantined.
Your playable character is an agent of the Strategic Homeland Division, simply known as "The Division". Your mission is to find the source of the virus. In order to achieve this, you're equipped with weapons and explosives – you'll need to use them against any attackers.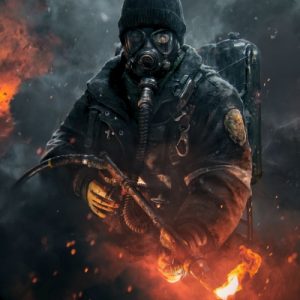 As you move through the game, you'll have missions – within the overall storyline – that you'll need to conquer. Once you have achieved them, you'll be rewarded with experience points (XP); you can use these to learn new skills, and with the money, you can purchase extra weapons and/or upgrade your gear.
There is a Base of Operations; here, there are different wings such as the Medical Wing and the Security Wing; you'll receive intelligence reports, specific to the wing, throughout the game; it will aid your progression.
If you're keen to play against another a real-life adversary, then the Dark Zone mode is for you! This is separate from the main campaign and has its own advancement system. You can expect high-end artillery, which you'll need to survive the frenzy that awaits you; oh, and in the midst of this, you need to complete certain objectives.
The Division is one of the best representations of Tom Clancy's work. It's a fantastic combination of suspense, strategy, stealth and pure battle! If you're a RPG fan, this is definitely worth adding to your collection. Good luck, agent.
Pros: State-of-the-art visual design; captivating storyline; incredible detail
Cons: Enemies are predictable; Dark Zone mode can be approved upon
Verdict: 8/10