The last few years have seen Puma putting a significant amount of research and development into its running category. The brand has particularly put a focus on developing technology for its running shoes, and has quickly become a leader of the pack with its innovative Nitro Foam technology. Now, after nearly two seasons of the Puma Nitro range of road running shoes, the much loved Nitro Foam has now made its way into Puma's first trail running shoe; the Puma Voyage Nitro.
Designed to take you off-road and give you the freedom to explore a multitude of terrains, this innovative new shoe offers trail runners a shoe that prioritises responsiveness, cushioning, and extreme lightness for a more effortless run. The cleverly designed shoe is all about versatility and features cushioning and traction to tackle multi-terrain runs.
Also read: 5 New Sneaker & Trainer Drops that Should Be on Your Radar
I got the chance to slip on a pair of Puma's new flagship trail running shoes and see first-hand what's so special about this new addition to the Puma Run category. The Voyage Nitro boasts many features that set it apart from other trail running shoes on the market, but is it the shoe for you?
The specialised shoe features a two-part midsole with Nitro foam underfoot for cushioning and responsiveness on the trails. Puma's Nitro foam technology is infused with nitrogen through an innovative process to create a midsole that is lightweight, yet technically advanced for a smooth ride on even the harshest terrain. If comfort is your top priority when running, then you will love the Voyage Nitro.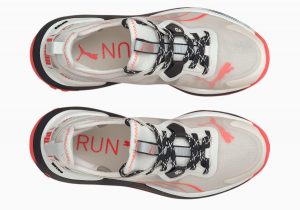 Also read: How to Choose the Right Running Shoes for Your Needs
The shoe offers incredible responsiveness and a satisfying bounce underfoot. Rather than being marshmallow-soft, the sole offers a fair amount of cushioning while still being firm in all the right ways. This ensures runners have a solid base shrouded in comfort. The shoe is also extremely light for a trail running shoe. A woman's size 4,5 UK weighs in at just 254 grams and doesn't feel heavy or cumbersome on the foot.
Also contributing to the shoe's super comfortable fit is Puma's Optifit technology. The Optifit wraps the foot for a secure low-boot fit and excellent ankle support on uneven terrain. The inner-lining sock extends all the way to the ankles to keep dirt out and keep your foot locked in place.
Find the best prices on running gear online with PriceCheck now:


To design this trail running shoe, Puma says it analysed the best fitting running shoes in the industry to develop an improved performance fit through new last shapes based on different usages. As a result, the Voyage Nitro will fit a variety of foot shapes. Puma took this research and development one step further with the Voyage Nitro women's shoes by creating a specific last engineered for the female foot, providing a narrower heel, lower in-step, and sculpted arch shape.
The Voyage Nitro also features durable PumaGrip to enhance the traction of the outsole and provide multi-surface traction. The outsole of these off-road runners gives you a great grip on any surface in any weather condition. Plus, a rubber toe bumper helps to keep the foot protected at the front, giving you, even more, freedom to explore.
This newcomer from Puma is sure to be a winner for any avid trail runner. These shoes will also appeal to regular runners looking for an off-road option. The DNA of a road running shoe is felt throughout the design and silhouette of the Voyage Nitro, making it ideal for newbie trail runners who don't want to stray too far from what they're used to when running on the road.
The Puma Voyage Nitro trail running shoe is now available in South Africa at a recommended retail price of R2,799.
Find the best price on trail running shoes online with PricCheck now: