AFFORDABLE! Let's face it; a lot of us don't want to spend a fortune on a device when we'll only use a fraction of the features. Fondi has come to the party and is offering just that: a very budget-friendly tab that uses the popular Android OS – KitKat to be exact; Now, everyone can have a tablet.
Functionality – this is what this tab is all about: make calls, surf the web, listen to music, snap photos, play games and watch videos.
With the Android OS, you have access to their app store, Google Play, which opens up a world of entertainment.
No one wants to hold a tab for the duration of an episode- let alone a movie – so, it's recommended that you purchase a generic 7" flip case that will allow you to position the device to your preferred viewing angle.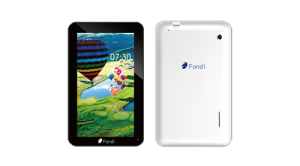 It's not going to win any prizes in the aesthetics department, but it is equipped with the hardware and software to ensure its core purposes.
Keys specs
7.0" LCD Multitouch screen
Resolution: 800 X 480 pixels
0.3 MP rear camera
0.3 MP front-facing camera
Android OS, v4.4 (KitKat)
Dual Core 1.5 GHz
Wireless connectivity: 802. 11b/g/n WLAN Card
microSD
512 MB RAM
4 GB onboard memory
microUSB
Built-in speaker
Rechargeable Li-Polymer 2000 mAh battery
Pros: Very affordable; microSD capability; wireless connectivity; Android OS (KitKat)
Cons: Flimsy build; bland design; no Bluetooth; only 4 GB internal memory; low pixel density; only 512 MB RAM
Verdict: 5/10