Loadshedding is the worst. And sadly, it looks like the dark days of interrupted power supply are going to be with us for a while. It's one thing when the power is out at night. A gas stove and a few rechargeable lamps help ensure me and my family are fed and don't have to sit around in the dark. But, when loadshedding hits during the workday it's easy to lose my cool thinking about all the valuable work time I'm missing out on.
But, then Rectron's RCT MegaPower came into my life and all was right with the world again. This incredible device is basically a powerbank on steroids and offers enough juice to keep my Wifi router powered, and my smartphone charged so, I can continue on with my workday with minimal interruption.
Also read: Top 5 Load-Shedding Solutions That Won't Break The Bank
The RCT MegaPower universal powerbanks come in 54k and 80k capacities which can be used as a normal power bank, except it has slots for charging 4 phones at once. If you live in a household where everyone is addicted to their smartphone, you know what a lifesaver that can be.
Of course, the super-powerful supercell battery can do more than just charge a few smartphones. The device is portable and compact, and can run a 30W connectivity set-up (WiFi router and Fibre terminal) for 4.5 hours (54K unit) or 8 Hours (80K unit).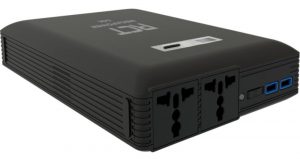 I tested the 54K unit on our home WiFi router, and it kept our internet up and running for 4 hours before needing to be plugged in and charged. If your laptop is running low on juice the device can also power notebooks for up to four hours. The device takes only a few short hours to get it back to full charge, so it can be ready for the next loadshedding stint.
If you're ditching your deadlines to binge-watch series then you'll be thrilled to know that this dynamite device can run your 32inch TV for 3 hours (54K unit) or 7hours (80K unit). The fact that this relatively small box is capable of running a TV is beyond exciting, and it really works too!
The unit is universal and works with normal 2 pin plugs, on universal adapters, and connects anything up to 200W max (combined on both sockets). In terms of ports the unit features 2 x 230V AC Outlets, 2 x 2.4A USB Type A ports, and 1 x 3A USB Type C port.
Find the best price on the RCT MegaPower powerbank online with PriceCheck now: