Calling all frequent travellers! Are you tired of lugging that bulky computer with you every time you take a business trip? Well, Lenovo has developed a lightweight champ that is the epitome of power, performance and portability.
As mentioned above, this is a machine that is suited for you if you travel for business on a regular basis. Its size gives it the ability to fit comfortably on the tray in front of you; perfect for getting those last few slides into your upcoming presentation!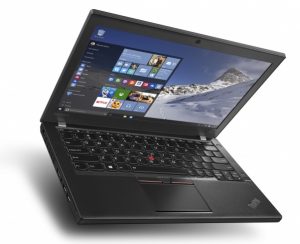 The Core i7 processor, combined with the 8 GB of memory will ensure that all of your applications run speedily and smoothly.
There isn't much built-in storage space, but just put in a flash drive and you're sorted; you can transfer files to another laptop later.
Power, performance and ultra-portability is what you can expect from this Lenovo ThinkPad. Safe travels!
Key specs
Manufacturer: Lenovo
Processor manufacturer: Intel
Processor type: Core i7
Processor model: 6600U (6th Generation)
Screen size: 12.5"
Display: HD (1366 X 768)
Graphics: Intel HD Graphics
720p HD Camera
Networking: Intel WiFi 2 x 2 802. 11ac with Bluetooth M.2 (vPro)
Memory: 8GB DDR4
Processor speed: Up to 2.6 GHz
OS: Microsoft Windows 10 Professional 64-bit
Storage: 256 GB
3 x USB 3.0 and a 4-in-1 card reader
Battery: 3+6 cell 72 WHr
Weight: 1.3kgs
Pros: Ultra-portable; lightweight; long battery life; powerful processor (Intel Core i7); 8 GB of memory; plenty of storage capacity; sturdy and durable build; stylish design; responsive keyboard
Cons: Expensive; dull display (not Full HD); only 256 GB built-in storage
Verdict: 8/10
Lenovo Thinkpad X260 12.5" Core i7 Notebook available for R24,447