In case you missed the news on Friday, the iPad Pro 9.7 inch model is now available for order in South Africa directly through the iStore.
Ideally used with attachable accessories like the Smart Keyboard and Pencil, the new 9.7 inch iPad is Apple's most serious contender to replace your laptop yet. Taking cues from iPhone 6s, the smaller iPad Pro Tablet has been given the latest Apple processor (A9X) and is features the same camera as seen on the iPhone 6s.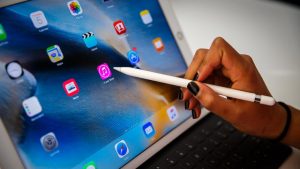 The 9.7 inch iPad Pro also features an Apple Pencil that allows the creation of artistic effect to be done on the tablet screen. The creation of a stylus / pencil is yet another sign of Apple doing things that they said they wont.
The smaller version of the iPad Pro is clearly aimed at being more customer friendly than the first iteration of the tablet which was widely believed to be aimed at corporate usage.
The 9.7″ iPad Pro varies in price from R12 000 until R25 000.