Tiny homes and micro-apartments have become a worldwide phenomenon. Not only are smaller living spaces more economical, but they're also an important part of the growing 'low-impact living' trend that is sweeping the globe. For many people living in the city, small space living is the best option but, of course, scaling down does come with its own challenges. Even with minimal belongings, you will still need to figure out how to make your space livable. Whether you live in a small apartment or have a tiny room in your home, these DIY hacks for small spaces will help make the most of a small space.
Add a few floating shelves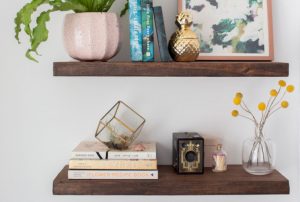 Whether it's in the bedroom, kitchen, bathroom, or living room, floating shelves are a great storage solution. Not only do they free up floor space, but they also help to visually expand your space and even allow more natural light to flow through your home. You can easily find tutorials online for a DIY floating shelf but many hardware stores also offer a range of pre-made floating shelves that just require a drill and some screws to put up.
Shop for floating shelves online here:
Add hooks to the back of your cupboard wall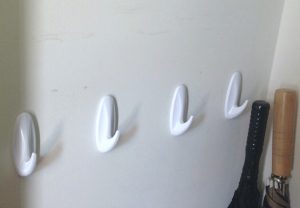 This one is super simple. If you have relatively deep built-in-cupboards, chances are behind your clothes rod awaits a perfectly good wall  just itching to be used for storage purposes. To utilise this space, all you need is a some good-quality self-adhesive press-on hooks. Once the hooks are in place you can hang all manner of things on these nifty little hidden wonders.
Of course, because this wall is most-likely always covered up with clothes, you can't store items there that you need to access every day. Try hanging your lesser used handbags, belts, or even out of season scarves and coats behind the clothes rack. In fact, anything hangable can go back there!
Shop for self-adhesive hooks online here:


Store your yoga mat on the wall or behind your bedroom door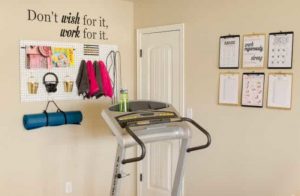 There are so many creative ways to store a yoga mat. Sure, yoga mats roll up nicely into a soft cylinder, but that's no use when that cylinder is taking up valuable floor space. When it comes to storing your yoga mat, you'll need to think out the box. You can roll it up and build a DIY yoga mat shelf for it or buy a yoga mat shoulder strap carrier and hang it from a hook behind a bedroom door or inside a cupboard door.
Shop for yoga mat shoulder straps and bags online here:


Install a vertical wall garden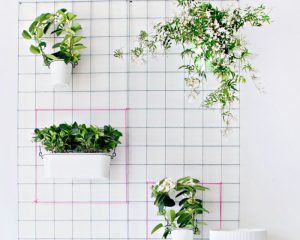 No garden or balcony? No problem! Install a DIY vertical garden on an empty wall inside your home and your space will instantly feel more peaceful. There are loads of tutorials online showing you how to make an easy DIY wall planter. Inexpensive and space-savvy, a wall garden will hep bring plenty of greenery into your home, without taking up any counter or floor space.
Shop for gardening essentials online here:


Make use of mirrors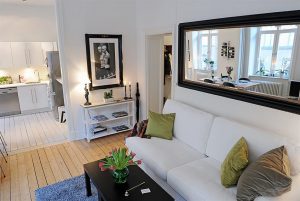 Adding reflective surfaces, like mirrors, to your space is the easiest way to open up a small space and make it feel bigger. What's more, mirrors will also reflect light and help a space feel more light and airy. For example, placing a mirror behind a light source, like a candle, pendant light, or bedside lamp, will help to maximize the light's reach while creating an almost magical effect. Placing a wall mirror next to or across from a window will also create the effect of a second window in a small room, maximizing the effect of natural light and pleasant outdoor views.
Shop for wall mirrors online here:


Looking for creative storage solutions for your small space? Shop a wide range of storage and organization products online via PriceCheck now.