Amazon has been making Kindles for ten years, and with every new generation there have been iterative improvements. Image and font quality have improved, the e-ink display has undergone incredible improvements, the devices have gotten thinner and lighter, but one of thew few things that Amazon hasn't done is make Kindle waterproof, until now.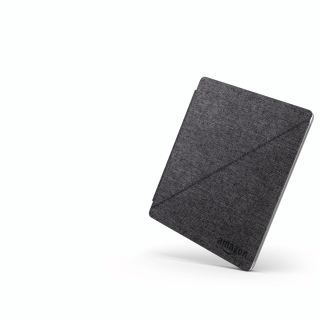 Ten years ago, we introduced our first Kindle with the mission of delivering any book ever written in 60 seconds or less," said Dave Limp, Senior Vice President, Amazon Devices and Services. "With a larger 7-inch, 300 ppi display, waterproof design, and Audible built right in, the all-new Kindle Oasis is our most advanced Kindle ever. Its thin, light, and waterproof design allows readers to stay engaged in the author's world in even more places than ever before."
The standout feature of the new Kindle Oasis is its IPX8 rating.  This means that it can be submerged in up to two meters of fresh water for up to 60 minutes.
The new e-reader has a larger 7-inch, 300 ppi display, the fastest page turns of any Kindle e-reader. The device has a unique shape which tapers to an ultra-thin 3.4 mm display which Amazon says features their strongest cover glass and a new aluminium back. Despite the larger screen size, the new Kindle Oasis weighs only 194 grams, 10 grams less than the Kindle Paperwhite.
The device comes in two storage options – 8 GB, which has twice the storage as the first Kindle Oasis, and can hold thousands of titles; and 32 GB, allowing you to store even more rich content with large file sizes, like Audible audiobooks, comics, newspapers, magazines, and more.
Audible will be available on the new Kindle Oasis via a free over-the-air update when the device ships—and it will be available via a free over-the-air update to Kindle (Gen 8) and the first Kindle Oasis in the coming months.
When it comes to using the new Kindle Oasis, Amazon is providing new ways to personalise your reading experience:
New Font Size and Bold Settings: Now choose from more font sizes than ever before—and five levels of boldness—for whichever font you choose to read with.
New Accessibility Options: In addition to the OpenDyslexic font ( a new open sou
rce font created to increase readability for readers with dyslexia), Amazon has also added a feature to invert black and white on the display if you have light sensitivity. The new enlarged display option also lets you increase the size of items like the text on the home screen and library as well as the book icons.
Light Settings: Built-in ambient light sensors will automatically adjust the display to your surroundings whether you're in a dimly-lit room or outside in the sun—and can be fine-tuned even further based on personal preferences.
Ragged Right Alignment: You can now read using left-aligned (ragged right) text.
The new size and bold settings as well as ragged right alignment will be delivered as a free, over-the-air update to Kindle Paperwhite (Gen 6 released in 2013), plus all newer Kindle devices.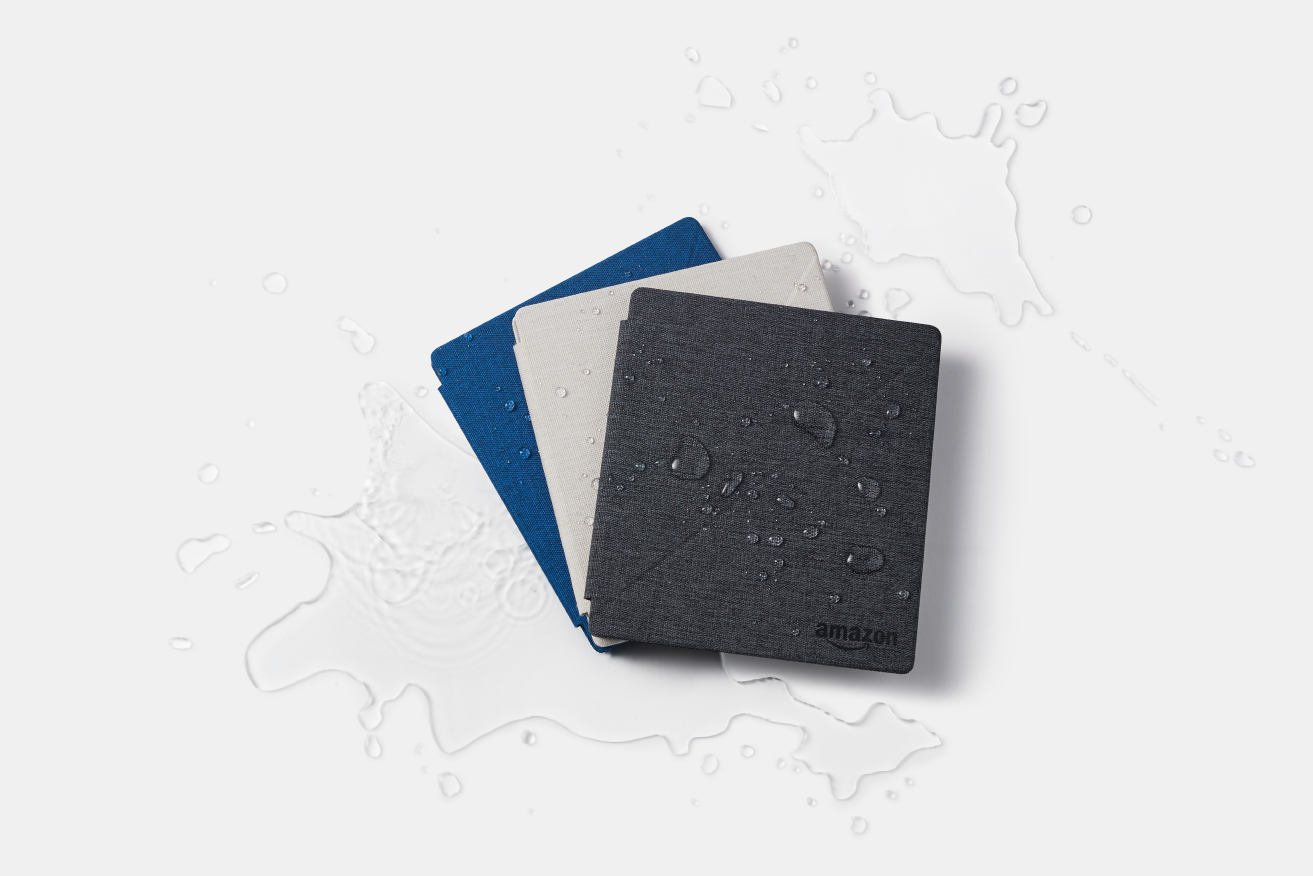 The new Kindle Oasis retains the best features found in previous Kindles:
Whispersync and Whispersync for Voice—Saves and synchronises your last page read, bookmarks, and annotations from your Kindle eBook and Audible audiobook across all of your Kindle devices and apps, so you can always pick up where you left off on any device, whether you're reading or listening. You can even switch between reading and listening on the same device and Whispersync will keep you in the right place in the story.
Worry-free archive—Automatically backs up your Kindle books in the cloud so you never need to worry about losing your books—re-download your books wirelessly anytime for free.
Goodreads—Kindle is integrated with the world's largest site for readers and book recommendations, with over 50 million members, 1.3 billion books added, and 47 million book reviews.
X-Ray—Explore the "Bones of the Book"—see all of the passages across a book that mention relevant ideas, fictional characters, historical figures, places, or topics of interest.
Word Wise—Available on many popular English language titles, Word Wise makes it easier to enjoy and quickly understand more challenging books. Short and simple definitions automatically appear above difficult words, so you can keep reading with fewer interruptions.
Family Library—With Kindle and Kindle reading apps, you can access not only your own books, but also books from the Amazon account of a spouse or partner.
Time to Read—Tells you how much time it will take to finish a chapter or a book based on your personalized reading speed.
Vocabulary Builder—Compiles words you look up in the dictionary into an easy-to-access list. Use these lists to quiz yourself with flashcards and instantly see words in context.
Share your favorite passages—Share book recommendations, highlighted sections, and meaningful quotes with friends via Facebook and Twitter.
Smart Lookup—Integrates a full dictionary definition with other reference information via X-Ray and Wikipedia.
Kindle FreeTime—Gives parents a simple, engaging way to encourage kids to spend more time reading. Hand-select books for your kids to read, and achievement badges are earned when they hit reading milestones.
Looking for a new e-reader? Shop our full range of Kindles.

Which Kindle is perfect for you?
Kindle 
 Kindle Paperwhite
 Kindle Voyage
 All new Kindle Oasis
 Screen size
 6-inch glare free
6-inch glare free
 6-inch glare free
7-inch glare free
 Waterproof
 No
No
No
Yes – IPX8 (2 meters, 60 minutes in fresh water)
 Audible
Yes
 No
 No
Yes
 Storage
 4GB
 4GB
 4GB
 8GB or 32GB
 Built-in light
 No
 Yes – 4 LEDs
 Yes – 6 LEDs + adaptive light sensor
Yes – 12 LEDs + adaptive light sensor
 Page turns
Touchscreen
 Touchscreen
Touchscreen + page press
 Touchscreen + page turn buttons
 Resolution
167 ppi
 300 ppi
300 ppi
300 ppi
Colours 
Black, White
Black, White
Black
 Graphite, Aluminum back
 Battery life
Weeks
 Weeks
 Weeks
 Weeks
Connectivity 
 Wi-Fi
Wi-Fi or Wi-Fi + Free Cellular Connectivity
Wi-Fi or Wi-Fi + Free Cellular Connectivity
Wi-Fi or Wi-Fi + Free Cellular Connectivity
Weight 
161 g
 Wi-Fi: 7.2 oz 205 g

Wi-Fi + Free Cellular Connectivity: 217 g

Wi-Fi: 180 g

Wi-Fi + Free Cellular Connectivity: 188 g

Wi-Fi: 194 g; Wi-Fi + Free Cellular Connectivity: 194 g
 Dimensions
 160 x 115 x 9.1 mm
 169 x 117 x 9.1 mm
 162 x 115 x 7.6 mm
159 mm x 141 mm x 3.4-8.3 mm