Premium looks inside and out! Acer's S7 Aspire range combines beautiful aesthetics – with protection that doesn't compromise on its modern design – as well as a powerful, unrelenting performance.
This laptop is a sight to behold. It has an aluminum unibody design that is complemented with strong protection; Corning® Gorilla® Glass covers the lid – endurance defined.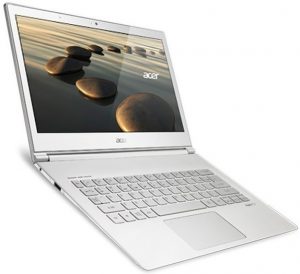 Owing to the benefit of having a touch screen, it has a Lock-in Touch feature that – through an innovative dual-torque hinge – locks the lid in place, preventing any movement when you press on the screen.
Acer has, ingeniously, packed all of these features into a magnificent machine that weighs a mere 1.3kgs!
Other than the hefty price tag and the absence of an optical drive, Acer's S7 is a laptop that makes a bold statement: built-in perfection.
Key specs
Special Feature: Ambient light sensor
Manufacturer: Acer
Processor manufacturer: Intel
Processor type: Core i5 5200U (5th Generation)
Screen size: 13.3"
Resolution: 1920 X 1080 (Full HD)
Display: LED backlight touchcscreen
Graphics: Intel HD Graphics 5500
Bluetooth0, 802.11ac
8 GB DDR3L SDRAM
Processor speed: 2.2 GHz, up to 2.7 GHz, 3 MB cache
OS: Windows 8.1 Pro 64-bit
Storage: 256 GB SSD
USB 3.0 x2
No optical drive
Integrated webcam
Acer Nplify™ Wireless LAN 802.11 b/g/n
Battery: 4-cell – up to 11.5 hours
Weight: 1.3kgs
Pros: Powerful, speedy processor; high-quality build; beautifully designed; lightweight; slim; long battery life; superb wireless connectivity; FHD resolution; 8 GB SDRAM; Corning® Gorilla® Glass protection; aluminum unibody design; touchscreen
Cons: Expensive; no optical drive
Verdict: 9/10