Chardonnay is a truly unique white wine. Besides the Chardonnay grape being one of the most widely planted across the globe, it's also incredibly diverse and is known to flourish in a wide range of climates and a huge variety of soils, showcasing the flavours of the environment where it is grown. If you're new to the world of Chardonnay, or are just looking for some new white wines to try here are 5 fabulous local Chardonnays to try now.
Groote Post Unwooded Chardonnay 2017
The Chardonnay grapes used to make this unique wine are grown on the highest, coolest point of Darling Hills' property and the wine's freshness of the grape is maintained by keeping the grapes between 14 and 18˚C during the entire wine making process. With flavours of tropical, citrus and guava this full-bodied Chardonnay offers, great ageing potential – but we won't judge if you're tempted to crack it open as soon as you bring it home!
Shop Groote Post wines online via PriceCheck now:


Groote Post Kapokberg Chardonnay 2016 (Wooded)
Yet another winner from Groote Post. The grapes used to make this Chardonnay are left hanging quite late into the season in order to gain full ripeness and the result is an elegant, creamy 'Chard bursting with flavour and character. This wine has a delightful golden straw colour and is sure to entice your nose with notes of toasted almond and butter, and zesty lime marmalade.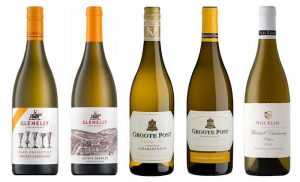 Glenelly Glass Collection Chardonnay 2017 (Unwooded)
Naturally fermented and un-oaked, this wine is vibrant in colour with a light green hue. Chardonnay fans will love this wine's complex aromas of citrus peel, lemon, pear and flint, and round, comforting texture on the palate.
Shop Glenelly wines online via PriceCheck now:

Neil Ellis Whitehall Chardonnay 2016
This single vineyard limited release from the Whitehall Farm in the Elgin Valley is something to savour indeed. With notable aromatics of nectarine, lemon barley and white flower,  this citrusy delight is elegant, fresh and balanced. It's the perfect Friday evening sundowner wine and is even critic approved, earning an impressive 94-point rating from British Master of Wine, Tim Atkin.
Shop Neil Ellis wines online via PriceCheck now:


Glenelly Estate Reserve Chardonnay 2016 (Wooded)
Just like its wooded counterpart, this wooded version from Glenelly is also naturally fermented and displays a similarly bright, crisp colour as the Glass Collection Chardonnay.  Fans of woooded Chardonnays will adore this lush 'Chard with its flavours of quince, citrus peel, lime, butterscotch and pear drop.
Want more drinks related reads? One of the world's most loved Proseccos, Mionetto Prosecco, is now available in South Africa.
Check Out Our Cooking & Recipe Section For Restaurant Reviews, Recipes, Foodie Features, And News To Make You Salivate.