Since the brand's inception, Vans has celebrated those doing things their own way. Now, the fashion brand is paying homage to those who dare to be different with two brand-new footwear and clothing collections that enable creativity and personalization. The Vans U-Colour footwear collection and the Vans DIY Collection allow you to customise and create your own pair of Vans footwear or clothing to wear it the way you want.
Colour your own way
As a nod to the early days of Vans, the U-Colour collection lets you creatively express your personal style and make your Vans your very own. The U-Colour collection is available now at select retailers where Vans are sold.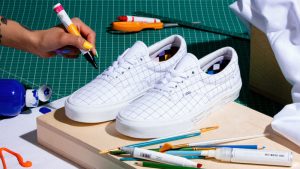 Drawing inspiration from the Vans fans who use their footwear as a creative canvas, the U-Colour collection features an Era that has a blank checkerboard pattern atop each of the panels, a true white tongue, and laces and eyelets to make your own checkerboard design or new pattern. The sidewall of the Era showcases "fill in the blanks" for fans to make a statement and express their individuality.
A second Era footwear style highlights a hand-drawn floral motif and leaves each of the flowers open to fill in and colour. Whether you stay inside the lines or choose to go beyond, the U-Colour collection enables creativity during an inspiring time of expression and personal style.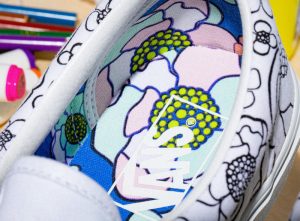 Find the best prices on Vans sneakers and clothing online with PriceCheck now:


With a lace-up and slip-on sneaker option, this new collection lets you colour your world the way you want. Whether you love bright and colourful sneakers or prefer a neutral look, you can create it just the way you would like it.
Do it yourself fashion
Embracing the spirit of creativity, Vans DIY collection for women allows you to cut, sew, draw and update your Vans apparel and footwear pieces to make them your very own. A nod to the early days of Vans, the DIY collection gives fans the freedom to customise their Vans pieces however they want.
The innovative DIY collection begs for creativity and self-expression. A variety of women's apparel, footwear and accessory pieces come in stylish designs but also as virtually blank canvases: Cut this, colour that, sew a patch here — these pieces are for you to make your mark and create your own style.
Included in the collection is the Make Me Your Own Hoodie: a boyfriend-fit pullover in black. Cutting is encouraged with this hoodie, as interior DIY cutlines guide the way. Customise the wide drawcords and DIY logo patch on the chest with the included marker pack.
The footwear in the collection pushes boundaries with an unexpected "inside-out" look. On three Authentic colourways and a black/white SK8-Hi, a tag is sewn on the exterior with red stitching.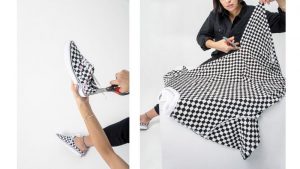 Bolstering these key pieces are the Make Me Your Own crew tee with an all-over checkerboard print, a long sleeve tee with DIY screenprint, fanny pack with DIY patch and pen pack, and the Make Me Your Own crew fleece pullover.
The DIY collection is now available to purchase at select retailers where Vans are sold.
Find the best prices on Vans sneakers and clothing online with PriceCheck now: