Low-alcohol and alcohol-free drinks are all the rage in South Africa right now, with alcohol-free beer leading the pack for healthier, alcohol-free alternatives. While beer lovers have loads of options to explore, there aren't many alcohol-free and low-alcohol alternatives for wine drinkers to enjoy. Which is why Van Loveren as introduced Almost Zero — a range of low-alcohol wine-like drinks for the health conscious wine lover.
Consisting of Almost Zero Wonderful White, Ravishing Rosé and Radiant Red, the wine-like drinks range with almost no alcohol offers wine lovers a low-calorie, low-alcohol alternative to wine. Tapping into the growing trend of fitness-focussed healthy living, Almost Zero will indeed fill a big gap in the South African food and drinks market.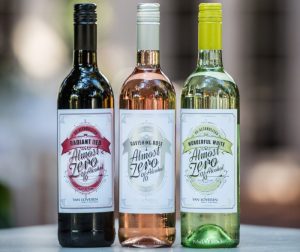 With this exciting new range Van Loveren provides wine lovers a unique drink offering with a distinctive wine character, but with far less guilt. While Almost Zero looks like wine and tastes very much like wine, the de-alcoholised drink has less than 0,4% alcohol and 75% less kilojoules than normal wine.
The alcohol in one glass of wine is equivalent to 38 glasses of Almost Zero while one entire bottle of Almost Zero has the same kilojoules as just one glass of regular wine! Banting-friendly, Almost Zero is the ideal alternative whether you're cutting back or going dry. It's perfect for business lunches, sport enthusiasts, teetotallers, and designated drivers.
Van Loveren Almost Zero is now available in South Africa. Shop a wide range of low-alcohol and alcohol-free drinks as well as local wines and spirits via PriceCheck now.


Click Through To Our Food and Drink Section For More Great News, Reviews, And Features.