So, your sneaker game is strong — you've invested in a hot new pair of sneakers for the summer season and you're ready to step out in style this weekend. Of course, the great outdoors can be an unforgiving place for a brand-new, clean pair of kicks and keeping them looking their best isn't always easy. But, that's no reason to keep your sneakers hidden away in your cupboard at home, a great shoe is made to be enjoyed. If you want to protect your fashion 'investment' and get the most out of your new, most likely, pricey pair of sneakers then follow these 3 tricks to keep your sneakers in tip-top shape.
1. Bust the dust
Most of us tend to stash our light-coloured sneakers in the back of our cupboards during the winter months. If you haven't worn your sneakers in a little while it's time for some spring cleaning. Summer is here, which means you're going to spend loads of time outside socialising at braais, picnics, and festivals giving you the perfect reason to dust off those sneakers before your social calendar blows up. If your sneakers are dusty wipe them off with a soft premium sneaker brush and leave them out to air before you wear them.
We love this Sneaker Lab basic sneaker cleaner kit featuring a sneaker brush and sneaker cleaning spray:
This biological formula cleans at a microscopic level to keep sneakers cleaner for longer. Browse the best deals on PriceCheck now:


2. Skip the machine
A classic pair of white sneakers is a season must-have, but they are also very likely to get dirty. While tossing your sneakers in the washing machine or dryer may seem like a good idea; this can create permanent damage to your shoes. Some materials absorb water and will warp in the water or lose their cushioning in heat. If you love your kicks, keep them away from the machine and try a sneaker cleaning spray or wipes instead. With a bit of care, you can get those sneakers looking as good as new in no time.
We love these Sneaker Lab sneaker cleaning wipes: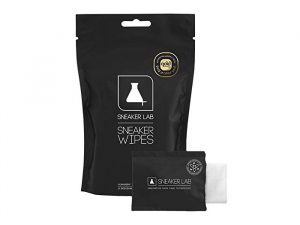 These easy-to-use wipes make sneaker cleaning easier than ever before. Sneaker LAB's pro-bacteria concentrated solution accelerates the breakdown of dirt at a microscopic level and continues cleaning for up to three days after application. Browse the best deals on PriceCheck now:


3. Keep them in shape
If you have seasonal footwear and are packing away your winter styles, make sure you clean your sneakers before you store them away. Put them in water-proof, dust-proof boxes in a dry spot and fill them with tissue paper to keep them smelling fresh. Try using a product like Sneaker LAB's Sneaker Protector before you store them away to ensure they stay in mint condition until you're ready to wear them next year.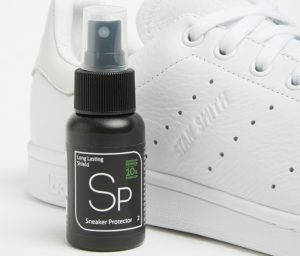 Sneaker Lab's Sneaker Protector Spray helps to enhance colour and makes repeat cleaning easier, keeping your sneakers looking newer for longer. Ideal for suede, fabric and nubuck, this spray is a must-have for keeping sneakers in tip-top shape. Browse the best deals on PriceCheck now:


Whether you're trying to avoid scuffed-up shoes, rained-on suede, or beat-up leather, there's a sneaker cleaner that will help get (and keep) each pair clean. Using your sneakers on rotating schedule can also help to double their lifespan so finding more than one pair to suit your busy socialite lifestyle is ideal.
Check out the full Sneaker Lab range and a variety of other sneaker cleaning products on PriceCheck now.