2019 was the year of the wireless earbuds and this year, tech brands are taking it a step further with smart earbuds that are designed to go beyond music. While there are loads of wireless earbuds on the market already, we want to shine a light on the wireless headphones on steroids. The buds that go beyond the bass and treble into the territory of smart features designed to make life with your smartphone that much smarter.
But which earbuds are best for your needs? We've rounded up our picks of the best smart earbuds for 2020. From AirPods to Galaxy Buds, these are the ones you need in your ears this year.
1. Jabra Elite Sport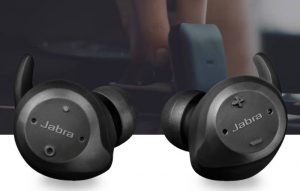 A runner's dream, these earbuds from Jabra are like having a coach in your pocket. These smart 'hearables' seem to do it all. With running features like real-time in-ear coaching, heart rate sensing, and VO2 Max testing coupled with audio pass-through (so you can pay attention to the world around you) and easy switching between calls and music, you can't go wrong with these tech-savvy earbuds. They're also sweat-proof and waterproof, so they're tough enough to withstand the sweatiest workouts.
Compatible with both iPhones and Android devices, the Jabra Elite Sport earbuds offer up to 4-hours of battery life on a single charge, along with a charging case delivering two more charges of equal length. In addition to fantastic sports features, Jabra's Elite Sport earbuds also offer stellar sound quality and are widely regarded as the best earbud-style headphones for runners and active types.
These buds from Jabra work very well as a headset as well as single or stereo buds and are also compatible with leading third-party fitness apps as well as Jabra's companion fitness app to give you the best tech in running training.
Find the best prices on the Jabra Elite Sport and accessories online with PriceCheck now:


2. Beats Powerbeats Pro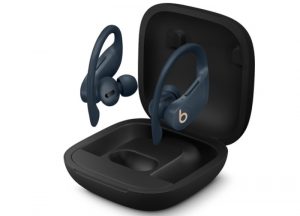 The ultimate earbuds for audiophiles, the Beats Powerbeats Pro headphones are ideal for anyone who wants big bass with high-quality, clear sound everywhere else. While they may have a little too much thump for some ears, these earbuds are sure to impress anyone looking for earbuds that prioritise music over everything else.
Compatible with Apple and Android devices, the Beats Powerbeats Pro headphones promise a staggering 9 hours of battery life, one of the longest-lasting of all the fully wireless earbuds on the market. Pair it with the wireless charging case and you'll get a whopping 24-hours of battery life on the go.
Many reviewers have reported experiencing connectivity issues with the Powerbeats Pro buds, especially in high-traffic areas, and drop-outs when wearing the buds while running, but even with the connection kinks and the issues with fit, these buds by Beats are still right up there with the best of the best. It is worth noting that the Beats Powerbeats Pro does features the same H1 chip found on the AirPods, making connection with an iPhone a lot more seamless than an Android device.
One of the key features of the Beats Pro is the active noise-cancellation technology (Pure Adaptive Noise Cancelling) which continually monitors the surrounding environment and adjusts to block out ambient noise and accommodate for sound leakage from head movement, trapped hair, earrings, etc. There buds also feature passthrough technology which allows sound to pass into the ear at the touch of a button, helping you to stay in tune with your surroundings.
Find the best prices on the Beats Powerbeats Pro and accessories online with PriceCheck now:


3. Samsung Galaxy Buds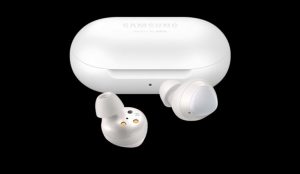 With enticing features, Samsung's Galaxy Buds are indeed a popular choice amongst Android users, but they're not the smartest on our list. They might not have all the bells and whistles of some of the competitor earbuds but these Android-friendly buds are still great little performers. Compatible with iPhones, Android phones, and Samsung smartwatches, the Galaxy Buds are a great all-rounder for someone looking for 'hearables' with a few extra features thrown in.
The new Samsung Galaxy Buds might look the same as its predecessors but under this new offering from Samsung delivers loads of improvements under the hood. You'll get better sound as well as automatic syncing and quick pairing with any Android device. Galaxy's Buds also support Bixby smart assistant support, so you can use them to make calls, send messages or check battery life.
The earbuds offer an impressive 6 hours of battery life on one charge as well as a wireless charging case to keep your Buds powered on the go. What's more, if you own a Samsung S10 smartphone, then you can use the phone to wirelessly charge the earbuds just by placing the case on the handset.
If you're concerned about looks, Samsung's Galaxy Buds sit a little more discreetly in the ears than Apple's AirPods, giving you a more low-key look when you're listening to music or making calls.
Find the best prices on Samsung Galaxy Buds and accessories online with PriceCheck now:


4. Apple AirPods 2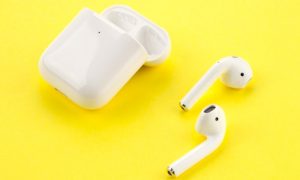 While many lists may put the Apple AirPods right up there as one of the best earbuds on the market, these champs from Apple aren't quite smart enough compared to their competitors. Not yet anyway. Compatible with the iPhone, Apple Watch, iPad and Mac, the Apple AirPods 2 instantly connect, pause, and resume music and sound as you take them out and put them in your ears.
This is all thanks to the optical sensors and a motion accelerometer technology used in these earbuds. But it's just the beginning of the features to come using this technology. In the future, techies can likely expect these sensors to be used for fitness and health tracking features in the AirPods.
The AirPod's faster connecting time and performance upgrades are also thanks to Apple's new H1 chip. With this new generation of Apple earbuds you'll enjoy more talk time and a hands-free "Hey Siri" wake-up and voice control as well as better battery life (up to 5 hours battery life on a single charge). The earbuds also come with a new Wireless Charging Case to give you an alternative way to power up your Pods.
If you're content without features like fitness tracking or augmented audio, then Apple's Airbuds 2 are a great choice for anyone with an Apple device.
Find the best prices on Apple AirPods and accessories online with PriceCheck now: