The university year is almost upon us which means it's time to start stocking up on the essentials for a productive year of learning. One of the most important tools for any university student is a good laptop. Of course, laptops don't come cheap and most students don't have a limited budget when it comes to shopping for university supplies. To make finding the best laptop for your budget we've put together a list of the top 3 best laptops for students as well as tips on how to go about choosing the right machine for your needs.
Things to consider:
When looking to buy a laptop for varsity you don't necessarily have to worry about getting a powerful machine with the latest processor and a huge amount of RAM as you would if you were looking to buy say a gaming laptop or a laptop for more technical design or computer programming work.
That being said, you will need to make sure the laptop you choose has good enough specifications to run smoothly and offers all the ports and media connections necessary for your study needs. Most students will do just fine with a laptop that has at least 4GB of RAM and 3 or more USB ports.
If you're hoping to store larger files on your laptop you will also need to consider buying a machine with sufficient storage space and anything with a 250GB hard drive should give you the capabilities to store documents, videos, and any other software you might need on your computer. Should you find you need more storage space there's always the option to buy an external hard drive to increase storage space, in this case, multiple USB ports are a must. If you have access to a good internet connection you may also consider buying a laptop with less storage space and backing up your files on the cloud using a service like Dropbox or iCloud.
When it comes to choosing a laptop for university work, size is another important factor to consider. The laptop you choose needs to be practical and fairly light. A heavy laptop with a large screen probably won't be the most practical thing to carry around with you all day so it's best to opt for a lightweight laptop that has a medium-sized screen. Anything less than 2kgs with a 13-inch screen should be ideal. Battery life should, of course, also be very good.
Keeping in mind budget, portability, and hardware, let's take a look at our top 3 picks for the best laptops for university students:
Acer Aspire 1: Best for students on a tight budget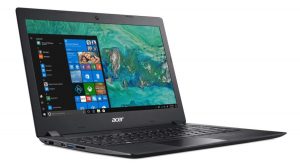 This simple workhorse offers the basics at a wallet-friendly price. The Acer Aspire 1 is an entry-level laptop ideal for running Windows 10 along with a few additional applications with relative ease and little lag. It has an AMD Celeron processor and 4GB of RAM and weighs in at 1.65 kg. With a 14-inch high-resolution screen, this laptop is ideal for varsity work and carrying around in a backpack.
The Aspire 1 comes in two editions, offering either a 32GB or 64GB hard drive. With limited onboard storage space you will very likely need to invest in an external hard drive or cloud storage when using this machine as Windows 10 and basic applications like a web browser will take up quite a few gigs out of that minimal storage space. This laptop offers ample ports and connections with 3 USB ports (2 x USB 2, 1 x USB 3), an SD media card reader, HDMI, Ethernet port, as well as built-in Bluetooth and WiFi connection. There's also a built-in basic webcam, mic, and audio system.
With a smaller screen and low storage space, this isn't ideal if you're hoping to do more than just varsity work with the machine. It's not ideal for watching the latest movies or TV series or playing games but is a good choice for those on a budget who don't need any additional bells and whistles.
Find the best prices on the Acer Aspire 1 laptop online with PriceCheck:


HP PAVILION 14: Best all-round value for money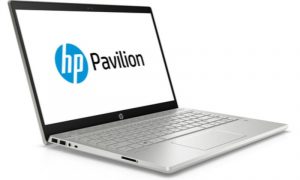 This budget-friendly laptop marries decent specs with good build quality to bring students a great value-for-money machine. The HP Pavilion 14 is just affordable enough for students looking for a little more bang for their buck. If you have dreams of owning a high-spec laptop this machine is a prime example of a budget laptop that aspires for more. It offers great build quality that will last long after your days of pulling all-nighters are behind you.
With an Intel Core i5 processor and 8GB of RAM, the HP Pavilion 14 will run the latest version of Windows 10 any other applications and software you might need without breaking a sweat. Unless you're running a mammoth amount of programmes at once you won't experience any lag with this budget-friendly beast. Weighing in at 1.7 kg, with a 14-inch high-resolution screen, this laptop will prove to be easy to cart around in your university bag. One of the most exciting features of the HP Pavilion 14 is the 360-degree convertible lid which enables you to transform the laptop between clamshell, tent, media, and tablet modes.
If you're looking for something with more storage, then this is a great option. Featuring a 128GB solid-state drive, you should have more than enough space to store your coursework as well as necessary applications and software on this machine. This laptop offers multiple ports and connections with 3 USB ports (2 x USB 3 type-A, 1 x USB 3 type-C), an HDMI port, SD card reader, as well as built-in Bluetooth and WiFi connection. The machine also features a fingerprint reader located conveniently on the keyboard deck, which allows for password-less login when restarting Windows 10.
A medium-sized screen, adequate storage space, and impressive memory make this laptop ideal for varsity work as well as additional general everyday use like catching up on movies and TV series or web browsing.
Find the best prices on the HP Pavilion 14 laptop online with PriceCheck:


Acer Aspire 3: Good mid-range varsity laptop
If you're in the market for a good general use laptop that will allow you to tackle more than just your varsity assignments then the Acer Aspire 3 is an excellent choice. This higher-spec laptop is a big step up from its smaller cousin, the Aspire 1. You'll have to splash out a bit more but you'll get lots of value for money with a bigger 15.6 inch HD screen, a more powerful processor, and exponentially more storage space.
Featuring a 1TB hard drive, as well as 4GB or 8GB of RAM, Aspire 3 offers plenty of storage space and memory for all your varsity work requirements and then some. Weighing in at 2.1KG, this machine is the heaviest of our picks but it's well worth the extra load if you're more of a power user. In terms of connectivity, this machine offers 2 x USB 2.0 ports plus a USB 3.0 port as well as an SD card reader, HDMI port, Ethernet port, and built-in Bluetooth and WiFi connectivity.
If you've got a little more to spend, you can't go wrong with the Acer Aspire 3. With enough memory to run almost any programme smoothly and plenty of storage space to store your course work and anything else you may need to keep, this all-rounder from Acer is not only great for students but will also prove to be a good choice for anyone looking for a really good general use machine.
Find the best prices on the Acer Aspire 3 laptop online with PriceCheck:


Find these top laptop picks for students and plenty more laptops at great prices online with PriceCheck.