We all know that good oral hygiene is super important and most of us follow the golden rule of brushing twice a day and flossing every evening, but could we be doing more to ensure our pearly-whites stay in tip-top shape into old age? While you may think any old toothbrush is good enough to do the trick, most dentists recommend you use an electric toothbrush to ensure you keep plaque and tooth decay at bay. An electric toothbrush could help you brush better and more consistently than using a manual toothbrush, but which electric toothbrush should you choose? To help make your decision easier, we've rounded up our picks for the top 3 best electric toothbrushes on the market in South Africa.
Why buy an electric toothbrush?
While most dentists agree that a properly wielded manual toothbrush can do nearly as good a job as an electric toothbrush, but most people struggle with the "properly wielded" part of the equation. To ensure a good brush, you need to not only brush for the recommended time of 2 minutes, but also carefully work the brush around the entire set of teeth and the gum line while being careful to brush gently but with speed.
That's a lot of factors to keep in mind! If you're looking for a nearly fool-proof way to ensure your teeth stay healthy then an electric toothbrush is your best choice. Compared to the average 300 strokes per minute when brushing manually, a good electric toothbrush oscillates or strokes thousands of times per minute and removes more plaque than a manual toothbrush. Most electric toothbrushes also have a signal or timer to help promote longer brushing, so you know you're doing everything in your power to keep those pearly whites clean.
The cream of the crop: Here are our top 3 best electric toothbrushes in SA:
1. Oral-B Pro 1000 — Best all-rounder
The Oral-B Pro 1000 may not be as powerful as some newer electric toothbrushes, but it takes our top spot because it's the best electric toothbrush over-all. Budget-friendly, highly effective, and compatible with a wide range of replacement brush heads, this no-frills electric toothbrush is a whizz at helping you get the job done.
Featuring a CrossAction brush head, that reaches into every nook and cranny between and within your teeth, this electric toothbrush will help you to scour away up to 300% more plaque than a manual toothbrush. The toothbrush handle has an easily accessed on/off button, and the brush vibrates gently every 30 seconds to let you know it's time to move on to the next quadrant of your mouth. Press too hard, and the toothbrush will stop rotating to help prevent gum irritation. Oral-B Pro 1000 will give you a week of battery life on one charge and when it's out of juice you can simply place it on its charging stand, which doesn't take up very much counter space.
One of the biggest pros of the Oral-B Pro 1000 is its compatibility with a wide variety of brush-heads. If you don't like the standard brush-head, the device comes with you can easily switch it out for a head that will better suit your needs. The brush is compatible with nine different Oral-B heads, including whitening, sensitive, extra gum line cleaning, deep clean, orthodontic care, and floss action. Just twist and pull to switch out the brush head.
Find the best price on the Oral-B Pro 1000 online with PriceCheck now:


2. Philips Sonicare 2 Series Plaque Control — Best for gums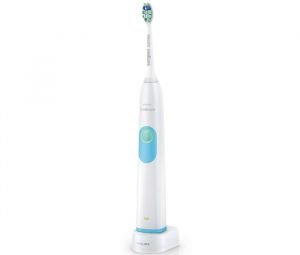 If you're struggling with your gums, then the Philips Sonicare 2 Series Plaque Control can help bring them back to good health. Many dentists recommend patients opt for sonic toothbrushes (which oscillate at astonishing rates of up to 31,000 strokes per minute at full speed) over a rotating electric toothbrush due to their effectiveness at reaching and removing plaque between the teeth and beneath the gum line. The Philips Sonicare 2 Series Plaque Control electric toothbrush is a great choice for anyone who struggles to be disciplined with daily flossing.
The Philips Sonicare 2 Series Plaque Control toothbrush works to drive fluid between the teeth and under the gum line to break up and remove more plaque than regular toothbrushes. It's also gentle enough to use on orthodontics, implants, veneers, and sensitive teeth. The brush also has a timer that lets you know when two minutes are up and the brush automatically turns itself off after the 2 minutes are up.
If you're new to the world of electric toothbrushes then this gem from Philips is ideal as it eases you into the sonic brush experience by slowly increasing the power over the brush's first 14 uses, giving you plenty of time to adjust to the ultra-oscillating speed. It is important to note that the replacement heads of this toothbrush are quite a lot more expensive than competitor brands' options, but as far as sonic toothbrushes go, this one is still one of the most affordable on the market.
Find the best price on the Philips Sonicare 2 Series Plaque Control online with PriceCheck now:


 3. Oral-B Pro 7500 Electric Toothbrush — Best for tech-lovers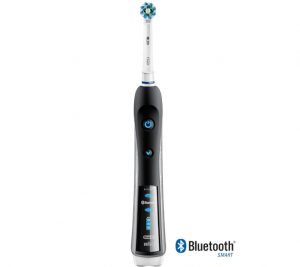 If money is no object, then you can't go wrong with the Oral-B Pro 7500 electric toothbrush. The Rolls Royce of toothbrushes, this smart toothbrush is the pinnacle of at-home oral hygiene. This high-tech toothbrush features onboard sensors, timers, and a powerful app to help you care great care of your teeth in-between dentist visits.
Featuring a carefully designed brush head that uses three distinct motions to dislodge food bits, break up plaque, and polish away stains, this brush from Oral-B is a design marvel. While in use, the circular brush head oscillates, rotates, and pulsates, leaving your teeth fresh-from-the-dentist clean with every brushing. The brush also has a built-in pressure sensor that stops its motion and illuminates a light ring set into the handle if you are pressing too hard, helping you protect tooth enamel from damage. This coupled with a 30-second vibrating timer, which serves as a gentle nudge to remind you to move along to brush another area of your mouth, makes the Oral-B Pro 7500 a standout choice for anyone who is serious about oral hygiene.
The Oral-B Pro 7500 electric toothbrush is Bluetooth enabled and allows you to link to an app on your phone or tablet. Use the app to track your brushing habits and set goals for yourself over time and brush your way to a brighter smile in the new year.
Find the best price on the Oral-B Pro 7500 online with PriceCheck now: