Foodies rejoice; the world's first food atlas is here! If you love trying different kinds of cuisine from around the world then you will want to bookmark this website because you will spending loads of time browsing over the next few days. Bringing together dishes from across the globe, global food mapping website, TasteAtlas, gathers information about authentic foods and then tells you where to find the best of the best around the world.
A travelling foodie's dream come true, the website compiles reviews from professional food critics and locals to provide recommendations to users while they're travelling or to those who simply want to discover more about cuisine in their own city.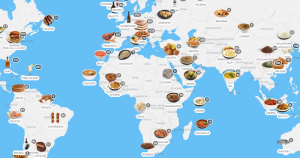 On a South African note, the map features 31 different local dishes and ingredients totally unique to our country including dishes such as bobotie, potjikos, and roosterkoek amongst a bunch of others. Of course, it also tells you the best spots to find these dishes so you can be a food tourist in your hometown or while exploring the country. From gobsmackingly good bunny chows in Durban to mouth-watering gatsbys in Cape Town, the site has it all. Think melktert, koeksisters, Rooibos, and even amasi!
Discover the origin of the Springbokkie shot and where Racemosa Wild coffee comes from, or read interesting facts about biltong and bredie. Not only will tourists be exposed to South African food culture, but even locals will benefit from the recommendations to help curb your favourite cravings.
Visit the Taste Atlas website to browse local cuisines around the world.
Want more great recipes? Shop for a wide range of cookbooks online via PriceCheck now!


While you're in the kitchen, try this recipe for Cheats Crème Caramel.

Click Through To Our Recipes & Cooking  Section For More Great Fitness News, Reviews, And Features.