Nothing completes an outfit quite like the perfect pair of shades. With life on the go, sunglasses are the perfect token accessory that adds a bit of glam to any outfit. From the boardroom to social soirées, take your look to a new level this season. Just because it's winter, doesn't mean you don't need to protect your eyes from the sun and glare… And look the part while you're at it.
Not sure which sunglasses to invest in this season? Don't fret, we've got you covered with this round-up of the perfect pair of shades to suit any occasion and style. This season, it's not just about shopping around for the best price on sunglasses, it's also about finding the perfect pair to elevate your style.
PriceCheck tip: Certain styles of sunglasses never go out of style, such as the Ray-Ban Wayfarer or Aviator.
Trendy
With these trendy sunglasses, you will definitely look ultra-cool and on-trend. Keep up with the crowd with these stylish frames and take your wardrobe to new heights. These bold frames add flare to an outfit and can be worn whenever the mood strikes. There's no doubt these frames will make a statement this season and have you turning heads wherever you go.
For a bold statement, we love:
Versace, VE2234 – recommended retail price, R 3,640.

Burberry, BE4344 Daisy Polar Brown Gradient Sunglasses – recommended retail price, R 3,840.

Classic & Sophisticated
These classic frames are perfect for those who like an oversized frame. Classic oversized frames evoke timeless confidence and are ideal for the sophisticated woman. These luxury frames will add flair to any look. This year, we are seeing coloured lenses and jewel-toned frames that are the perfect transition from winter to summer. Both bright and bold, they are sure to make a statement.
For a classic fashion must-have, we love:
Burberry, BE3133 Daphne gradient pink sunglasses– recommended retail price, R 3,030.

Michael Kors, MK1067B Burberry Corsica burgundy gradient sunglasses – recommended retail price, R 2,830.

Matchy-matchy
Ideal for men and women, these unisex sunglasses frames can be worn by anyone, anytime. Imitation has been said to be the highest form of flattery, so why not invest in a pair for both you and your partner and embrace the matching shades trend. What's more, these classic sunglasses for men and women are ones the whole family can enjoy, so why not grab a pair for the kids too?
For a unisex look that suits everyone, we love:
Ray-Ban – RB3025 Aviator large metal, grey-green sunglasses – recommended retail price, R 2,300.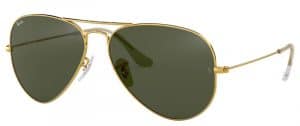 Ray-Ban – RB2140 Wayfarer green sunglasses – recommended retail price, R 2,300.

Much more than just a fashion accessory, sunglasses are also an essential tool in safeguarding the health of your eyes and the surrounding tissue. UV radiation from the sun can damage not only the skin of your eyelid, but also the cornea, lens and other parts of the eye. UV exposure also contributes to the development of certain types of cataracts and possibly macular degeneration.
When you're choosing sunglasses, look for UV-protection details on product labels. Pick sunglasses that block 90 to 100% of both UVA and UVB rays and skip those that neglect to offer details about their UV protection. Keep in mind that the colour and degree of darkness sunglasses provide have nothing to do with the sunglasses' ability to block UV rays. Avoid cheap sunglasses, even if the lenses are dark, because they cause pupils to dilate, which allows harmful rays to penetrate the eyes more easily.
To find the perfect look for yourself this season, you can shop more fashion items and clothing on PriceCheck.