Samsung has become  name when it comes to Android devices.
Thanks to industry leading design and functionality, the company's Galaxy S and Galaxy Note series, have continued to dominate global smartphone sales. The one problem is that if you wanted to enjoy these fantastic features and design, you'd have to buy one of the company's flagship handsets, but not anymore.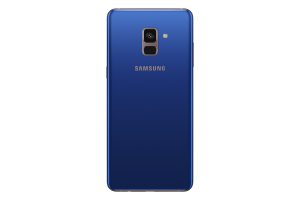 Samsung has announced two new mid-range handsets : the Galaxy A8(2018) and A8+(2018). Both handsets feature a dual front camera and a large infinity display.
"With the release of the Galaxy A8(2018) and A8+(2018), we're bringing our customers' favourite features from our flagship smartphones, such as the Infinity Display and our first Dual Front Camera with Live Focus, to our Galaxy A series, which is already known for its premium design", said Junho Park, Vice President of Global Product Planning, Mobile Communications Business at Samsung Electronics. "The Galaxy A8(2018) and A8+(2018) exemplify our continued dedication to meeting the needs of our consumers by providing them with greater choice and convenience."
Both handsets pack in a 16MP F1.7 rear-facing camera and 16MP+8MP F1.9 dual front camera, which means that not only are you going to get great pictures but also fantastic selfies. The dual front camera is made up of two separate cameras which means that you can switch between the two to take the type of selfie you want – from close-ups with the background to portrait shots with a clear and crisp background. The A8 and A8+ both include Samsung's Live Focus feature which was first introduced with the Note 8.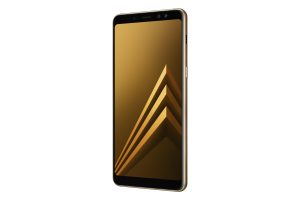 Samsung says that shaky video footage will be a thing of the past with video digital image stabilisation (VDis) technology. They've also added a hyperlapse feature, you can now create time-lapse videos that let you record, tell and share even longer stories.
The Galaxy A8 and A8+ are the first devices other than the Note 8 to get Samsung's Infinity Display which was first introduced in the Galaxy S8 and S8+.
Both devices will continually keep you informed with the Always On Display, meaning you can get information at a glance without unlocking your phone.
Offering IP68 water and dust resistance, the Galaxy A8(2018) and A8+(2018) can withstand the elements, including sweat, rain, sand and dust, making it suitable for nearly any activity or situation. The Galaxy A8(2018) and A8+(2018) support microSD cards so you can expand your storage capacity by as much as 256GB, and are the first in the A series to support Samsung's Gear VR.
The Galaxy A8(2018) and A8+(2018) are available in four colours including black, orchid grey, gold and blue to suit your personal style.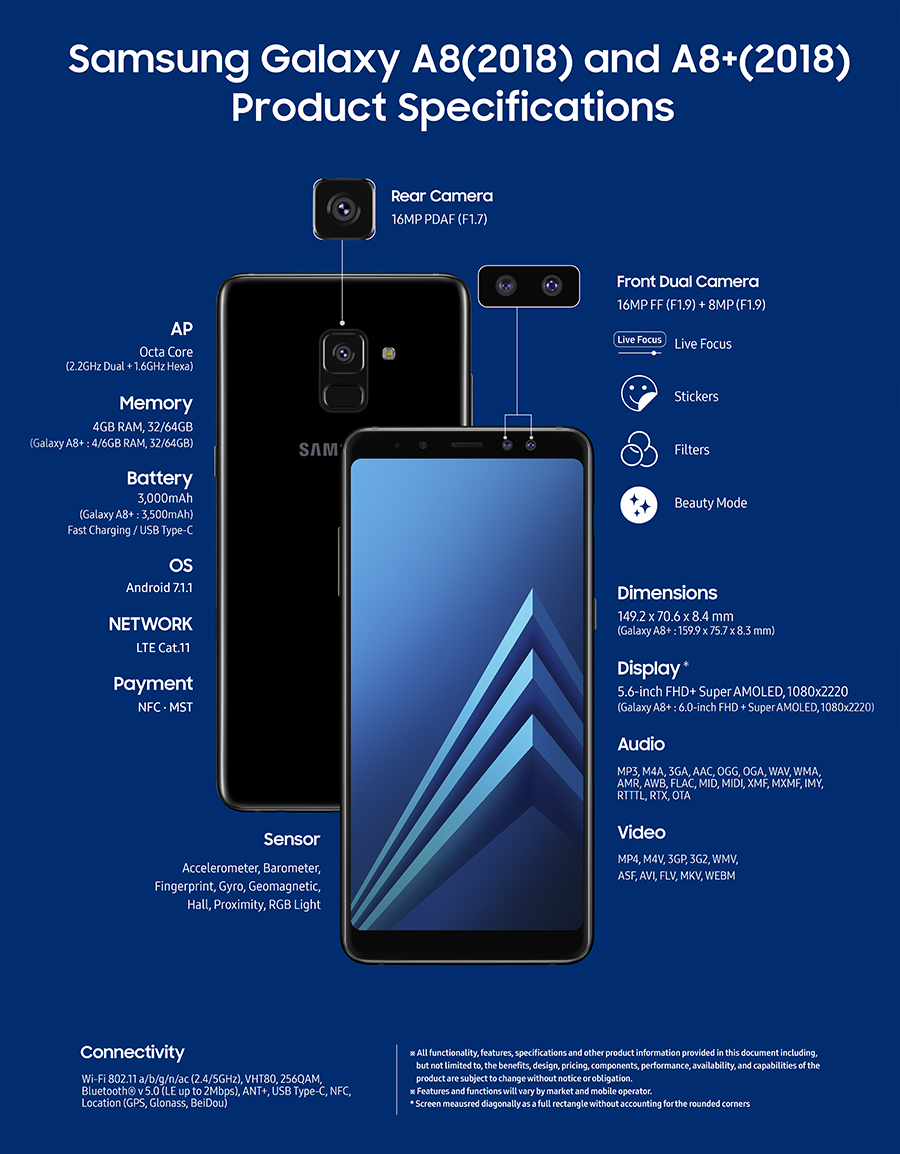 If you can't wait for the Galaxy A8 or A8+ to reach South Africa, you can buy other Samsung Galaxy devices here: