Samsung has announced the next iteration in its Galaxy Note line, the Galaxy Note 20, which will come in two model variants. We've rounded up everything you need to know about the South Korean tech giant's latest mobile release.
Samsung Galaxy Note 20 & Note 20 Ultra
There will be two versions of the Note 20, namely the standard 6.7-inch Note 20 and larger 6.9-inch Note 20 Ultra. The Note 20 features Samsung Inifnity-O display, while the Ultra model houses the Edge Infinity-O display, which wraps around the sides of the device.
The Galaxy Note 20 has 128GB of storage, and 8GB of memory; while the Note 20 Ultra has 12GB of memory and two storage options; the 128GB version and 512GB option, with microSD expansion to boot.
Both devices will have a substantial runtime given that the Note 20 is running with a 4,300mAh battery, while the Note 20 Ultra includes a 4,500mAh battery.
Design-wise, the devices will come in the following colour-schemes:
Galaxy Note 20: Mystic bronze, mystic gray and mystic green.
Galaxy Note 20 Ultra: Mystic bronze, mystic black and mystic white.
DEALS: Find the best price on smartphones here.
S-Pen Upgrades
The big draw to the Samsung Note range is its use of the S-pen stylus, which has received notable upgrades, according to the company. These tweaks will allow for greater responsiveness, precision, and new gesture controls, allowing you to also use the pen as a remote control.
Camera capabilities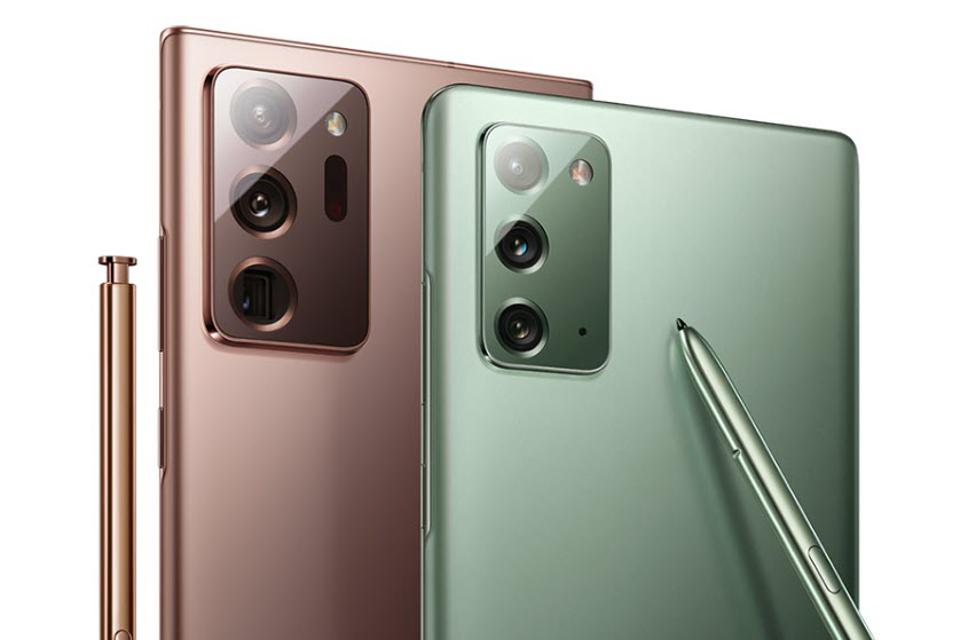 The Samsung Note 20 features a 12MP main camera, 64MP telephoto camera, and a 12MP wide-angle camera. The Note 20 Ultra ups the ante in the camera department, with its main sensor being a 108MP shooter, which is aided by an IR focusing array, along with a 12MP telephoto camera capable of 5x optical zoom and a 12MP wide-angle camera.
Also read: Buying Guide: Best Mid-Range Smartphones Available in South Africa
Price & availability
Pre-orders are now open for the devices, which will release on 21 August 2020. Those who pre-order will also receive a R4,000 voucher for the Samsung online store. The recommended retail prices are below:
Galaxy Note 20 – R24,999
Galaxy Note 20 5G – R27,999
Galaxy Note 20 Ultra – R26,999
Find the best price on smartphones online with PriceCheck now: