As it turns out, South Africans don't have to travel far to experience world-class service and luxury. That's right, put away your passport because Akademie Street Boutique Hotel in Franschhoek, Western Cape, has officially been named the World's Best Boutique Hotel in 2017!
Located in a 19th century Cape Dutch house the hotel offers a unique combination of private cottages and luxurious suites that cater for parties both big and small. The hotel is often praised for its handpicked curated furniture and decor pieces and with eight themed suites, five private cottages, and four heated pools, Akademie Street is the perfect place for a winelands getaway.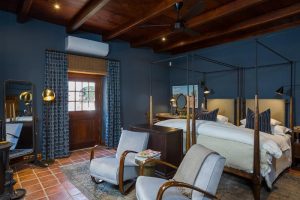 The award for World's Best Boutique Hotel was presented to Akademie Street at the World Boutique Hotel Association's annual Boutique Hotel Awards ceremony in London. Now in its seventh year, the international awards settle on around 600 nominees from over 80 countries each year. In 2017 Akademie Street was placed right at the top of the list, after being visited by a professional judge who rated the property based on dining, entertainment, design, facilities and service.
Want more travel tips and news? Check out our Travel section for more great reads!