Egyptian Mummies are flooding the hospital waiting area, the clown clinic has been struck by lightning, and it's panic stations all round as doctors rush to treat an outbreak of the Abominable Curse that is spreading through the hospital like wildfire. To add insult to injury, the mayor has just announced he's popping in for a quick inspection, which means my janitors are working overtime to ensure the place is spick and span for the big arrival. Running a hospital is messy business and chaos is the order of the day in Two Point Hospital, where outrageous disasters wait in the wings, ready to ruin your day at any given moment.
If your real job is all about putting out fires, then you might not find the chaos of Two Point Hospital as entertaining as most average-Joes, but there's no question about it, Two Point Hospital is a medical marvel. Even if you're not a fan of the management genre, this enchanting game is well worth playing just for the laughs. For those who played the classic hospital management game, Theme Hospital, over two decades ago, Two Point Hospital offers a generous dose of nostalgia that will take you right back to your childhood.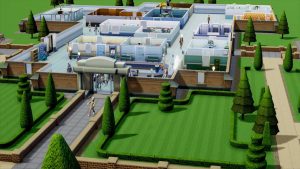 Made by some of the same people who brought us Theme Hospital, this new iteration from Two Point Studios is a laugh-a-minute. But, underneath the upbeat music, silly diseases and tongue-in-cheek jokes lies a challenging management game with more than enough meat to keep serious gamers entertained.
Two Point Hospital puts you behind the hospital administrator's desk, giving you the responsibility of juggling the grander and finer aspects of managing a hospital empire. From designing the internal layout of each building down to hiring staff, researching treatments, and unclogging toilets, you'll do it all in Two Point Hospital.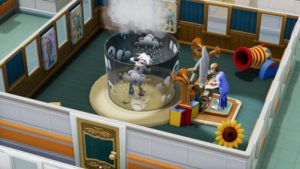 While the game is made up of various hospitals, each with its own unique set of challenges and goals, Two Point Hospital has one clear goal throughout ⁠— cure as many people as you can. Achieving this goal, and a list of other objectives, at each hospital will help you earn star ratings to allow you to unlock new room types, discover new illnesses, and of course, move onto your next hospital mission. Objectives include anything from making the hospital look more appealing to maintaining a high reputation level and keeping your patient death rates low.
Earning your star ratings and curing patients is a delicate balance as the number of deaths directly affects your hospital's reputation, which is essential in attracting top-quality hospital staff and patients with big budgets. Initially, the juggling of tasks is kept to a minimum because there are only a few ailments that need your attention. You'll start out small with only a single hospital and a handful of illnesses to worry about treating and slowly build your way up towards managing larger locations with multiple buildings and a whole new set of challenges to take on. Later missions prove to be increasingly challenging resulting in star ratings being more and more difficult to achieve.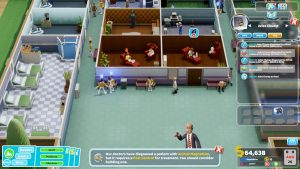 While this can all seem a little serious at times, the game's goofy style and colourful characters bring a sense of humour to the management simulation, finding a good balance between both aspects. This delicate balance is a hard thing to achieve in a management game and while many games with a similar mechanic tend to become mundane, offering more of the same with each new level, Two Point Hospital keeps things interesting by giving you just enough 'new stuff' and challenges along the way to keep you wanting more.
Owing to its incredible success back in 1997, it's quite unfathomable that it's taken so long for a spiritual successor to Theme Hospital to arrive but now that it's here it's been well worth the wait. Two Point Hospital does an excellent job of reworking an old formula into something fresh, modern and engaging without losing the charm of the original title.
Available on PC, Xbox, Playstation, and Nintendo Switch.
Find the best price on Two Point Hospital online with PriceCheck now: