Can you really put a price on a good hair day? While many women spend a pretty penny on professional hair care products every month, very few of us go the extra mile to invest in the best professional tools to use at home. Having the right styling tools at home can be the difference between living with frizzy damaged hair or turning heads with sleek, healthy-looking locks. If you're really serious about looking after your hair at home you'll spring for something high-end like the Dyson Supersonic hairdryer. Hailed as the Rolls Royce of hairdryers, this new-age styling tool is said to be quieter, faster, safer, and smarter than any other hairdryer on the market. But, does it live up to the hype? We put the Dyson Supersonic to the test.
Perhaps most well known for its hefty price tag, the Supersonic retails for upwards of R6,499, this styling tool comes in way above most other professional hairdryers, which cost anywhere between R2,000 and R4,000. If you've ever owned or used a professional hairdryer then you know that they are well worth the money but is the Dyson Supersonic really worth its hefty price tag? Well, it depends on who's using it.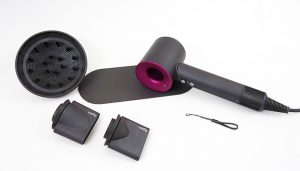 Full disclosure, I don't own a professional hairdryer myself. In fact, I can't blow-dry my own hair. Because I'm hairdryer-challenged I've always stuck to the simple drugstore variety and didn't see any value in spending more than R600 on a hairdryer. I'm more of a flat iron girl and have splashed out thousands of Rands on professional hot styling tools.
But I may soon be changing my tune (as soon as I save up R6000 that is) because after spending just one day playing around with the nifty Dyson Supersonic I want one. Me, the girl who can't blowdry her own hair. There were a few things that struck me about the Supersonic. First off, it is incredibly light. Instead of having a bulky motor at the top of the hairdryer, Dyson has put a tiny, super innovative motor in the handle. There's no worry of getting tennis elbow when using this hairdryer and the fact that the tool is so light makes a massive difference to your blow-drying experience.
The Supersonic is also ultra-powerful, but eerily quiet at the same time. Plus, the air that is expelled from the device is direct and controlled, so the air goes exactly where you want it to and will give you the fastest blowdry of your life. My hair usually takes a good 45-minutes to blow-dry in a salon and with the Supersonic I was in and out of the chair in 25 minutes.
Another game-changing feature is the heat-protection sensor which not only ensures that the nozzle and dryer stay cool to the touch but also serves to protect your hair from getting fried. The Dyson Supersonic has intelligent heat control that regulates the temperature of the air coming out so that it is never more than 125 degrees. There are also multiple settings on the device, including constant cool (to set your style), four heat settings, three airflow settings and a cold shot, which will help you regulate the heat yourself. The Supersonic is potentially going to save women a lot of heat damage and split ends so it gets an A-plus in my books for that.
When you look at all the research that's gone into the Dyson Supersonic you'd be crazy not to want one. The device is the result of over R9,10 million and 4-years of research, which involved the construction of a dedicated beauty lab, where over 1,600 kilometres of human hair was used to try out a staggering 600 prototype dryers. It sounds like a pretty extreme way to go in search of a good hair day but for Dyson, it was all about creating the very best hair dryer the world had ever seen.
For me, all the innovation that has gone into this hair dryer makes it worth the splurge and like I said, a good hair day is pretty priceless.
Find the best hairdryer for your budget on PriceCheck now. With a wide variety of hair styling tools and products from a multitude of online stores, PriceCheck takes the chore out of shopping around.


Words by: Crystal Espin