Laptops are great, but unless you're breaking the bank for a top-tier portable gaming machine, you're not going to be enjoying the latest first-person shooters or multiplayer titles on it. However, gaming hardware and peripheral specialist Razer has unveiled its Core X Chroma external graphics processing unit (eGPU) that gives your standard laptop a super-charged kick of gaming goodness.
The notable specs for the Core X Chrome are:
700w power supply
USB + Gigabit Ethernet ports
Capable of housing up to 3 slot-wide graphics cards
Dual-chip Thunderbolt 3 design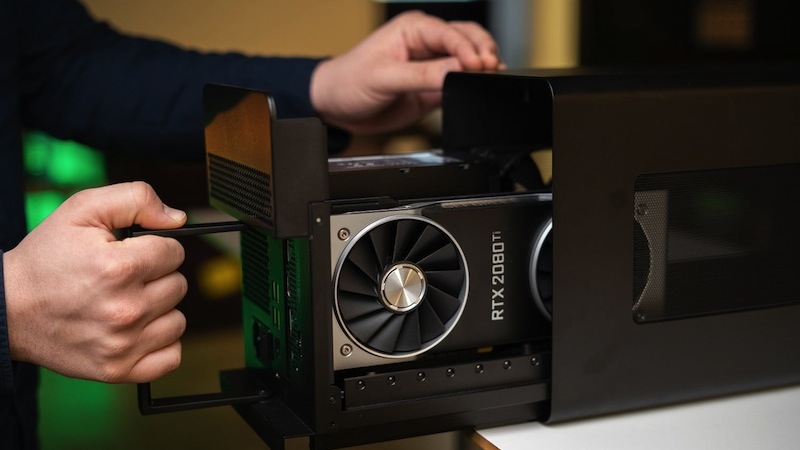 The consensus seems to be that the Chroma is one of the best eGPU's money can buy, and while it's obviously a legitimate option for Windows laptop users, the biggest draw will be for Macbook owners that want to transform their laptops into gaming rigs capable of giving them access to the same kind of graphics performance Windows machines enjoy.
One caveat Mac users need to be aware of, though, is that there aren't currently suitable Nvidia cards that are compatible with Mac, so you'll need to use AMD cards if you're planning on picking up a Chroma in the near future. There are some required specs that you should also check out to make sure there won't be compatibility issues between your laptop and the Chroma, you can check those out here.
So while this doesn't settle the PC vs Mac debate by any stretch, it's pretty cool that Razer has made an eGPU that offers utility to Macbook users that hasn't been that commonly available or conveniently packaged, so the Chroma's availability is likely to put smiles on the faces of quite a few Macbook owners.
It will be retailing for between $300-$400 in the US, but local pricing information hasn't been specified yet, keep any eye out in the months to come for confirmation on local pricing!
Looking for a new laptop? PriceCheck has a huge range of deals on devices from various retailers around South Africa!