Puma, along with singing sensation Selena Gomez, who has been Puma's global ambassador 2017, have unveiled the brand and artist's latest collaboration, the Puma Defy.
Fusing the technology of modern trainers with the street-style of Puma's sneaker range, the Defy aims to give fans something that can go from the gym to the dance-floor.
The shoe itself embraces the latest chunky footwear trend while also featuring a platform sole. While the raised-sole is unusual for a fitness shoe, the purpose for it is to provide side-to-side movement support. This is also supplemented by Puma's Profoam technology in the base of the shoe, ensuring that its lightweight, flexible, and returns to maximum amount of energy.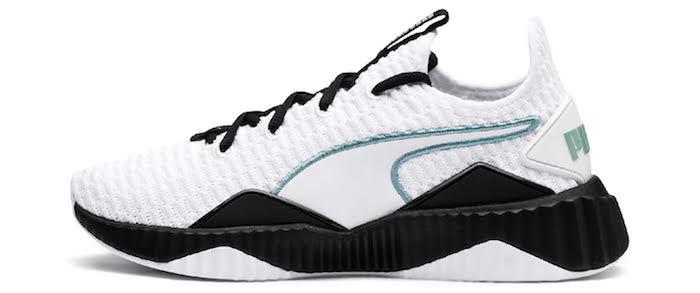 Puma's now-beloved knitted uppers also make an appearance on the Defy. The shoe has an 80s retro feel to it that will take you from sweating it out at the gym to looking sharp on the night out that follows.
Puma Defy will be available from 31 May 2018 at recommended retail price of R1 699. 
Itching for new sneakers? Shop a wide range of Puma shoes and clothing online via PriceCheck.


Want more fashion-related reads? Read all about the new Miley Cyrus for Converse Collection and Vans X Lazy Olaf collection.
Check Out Our Beauty & Fashion Section For More Fashion News And Style Tips.