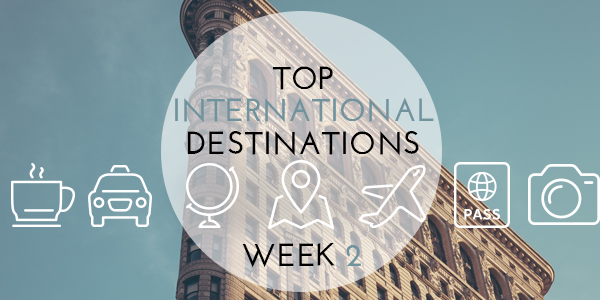 The Big Apple, the city so fantastic, they named it twice. New York is known for many things, broadway, history, sports, arts, restaurants, live music, and museums, to name a few. Whether you're taking in the traditional attractions like the Empire State Building, Statue of Liberty or the Metropolitan Museum of Art, you will never be short for things to do in the city that never sleeps.
DON'T MISS
The National 9/11 Memorial
The High Line
Broadway
EAT: Eataly
DO: Central Park
SEE: Frick Collection
Book your flight to New York here
.
Known for being home to some of Europe's most influential artists, and architects, Barcelona is a cultural melting-pot that engulfs visitors in colour, it's unique atmosphere and of course, it's delectable Spanish cuisine. Whether you are there for Dali, Gaudí, Las Ramblas, the Camp Nou or just some sunshine, Barcelona is one of the most beautiful and vibrant cities in Europe, and one that travelers cannot afford to miss.
DON'T MISS
Basilica of the Sagrada Familia
Casa Batllo
Gothic Quarter (Barri Gotic)
EAT Tickets
DO Hot Air Balloon Flight over Catalonia / Hop-on Hop-off Bus Tour
SEE Fundacio Joan Miro
Book your flight to Barcelona here
.
Ubud is known for its world class spas, including treatments that include, but certainly aren't limited to acupressure, reflexology, stretching and aromatherapy. Ubud is also the heart of Bali's arts scene, with numerous small museums and galleries to enjoy.
DON'T MISS
Traditional Spa and Yoga House
Agung Rai Museum of Art (ARMA)
Kecak Fire & Trance Dance
EAT Mosaic
DO A Cycle Tour
SEE Neka Art Museum
Book your flight to Ubud here
.
What is there to say about the city that has seen more tourists than most others in the East? Bangkok is lively, fast paced and frantic, but that it partly what makes it such a perfect holiday destination. Visitors can either embrace the city's chaotic nature, or make the most of it's tranquil and serene attractions, like the European-style gardens in Dusit. And did we mention the cuisine? We really should've!
DON'T MISS
The Grand Palace
Temple of Reclining Buddha (Wat Pho)
Museum of Contemporary Art (MOCA)
EAT Nahm
DO A Bike Tour
SEE The Floating Markets
Book your flight to Bangkok here
.
One of the great ancient cities, Athens was the centre of the civilised world for a long time. With wonderful sites to enjoy and ancient monuments to explore, it's a history lover's dream. However, it boasts a vibrant nightlife, cafe lifestyle and can also serve as the perfect stopover before exploring the numeours Greek islands.
DON'T MISS
Parthenon
Temple of Hephaestus
National Archaeological Museum (Ethniko Archaiologiko Museo)
EAT Café Avyssinia
DO Mt. Lycabettus
SEE Acropolis
Book your flight to Athens here
.
This one is for the adrenalin junkies. Outdoor enthusiasts from across the world venture to Queenstown every year to enjoy bungee jumping, kayaking, jetboating, white-water rafting, hiking, and even skiing. Near the Fjordland National Park World Heritage area, as well as the 75 wineries in the area, as well as the fact that most of the Lord of the Rings trilogy was filmed in the area ensure that visitors are truly spoilt for choice when embarking on a journey to this gem on New Zealand's South Island.
DON'T MISS
Skyline Queenstown – Gondola & Luge
Onsen Hot Pools
Adrenaline Tours
EAT Botswanan Butchery
DO Wine Tour
SEE Queenstown Garden
Book your flight to Queenstown here
.