A growing number of South Africans are discovering the magic of robot vacuum cleaners. They don't mind cleaning every day, and never complain or get bored or distracted. And they don't just save you time: they're good for your health as well. Robot vacuum cleaners – or robovacs, as they're commonly known – need no supervision and little maintenance. You operate them through an app, and once they've mapped your house, they'll happily clean up by vacuuming, mopping or both.
PriceCheck tip: While they may seem like Terminator-esque inventions, robot vacuum cleaners are safe and incredible handy. Check out the wide range of deals and specials on robotic vacuum cleaners on PriceCheck.
But it's also fair to say that people are sceptical of robotic vacuum cleaners. They've previously been quite clumsy and clunky. Bumping into furniture, missing most of the mess, and generally running out of battery before they've made their way across the living room. However, there are a few robot vacuum cleaners available in South Africa that are injecting some extra tech 'oomph' into the product category, aiming to offer a genuine alternative to getting out the ole broom.
Shopping for the best price on robot vacuums cleaner in South Africa that does the job right can be tricky. This is why we've put together this list of robot vacuum cleaners that you're sure to love. Here are our picks for the tops 3 best robot vacuum cleaners to buy in South Africa.
Xiaomi Mi Robot Vacuum Pro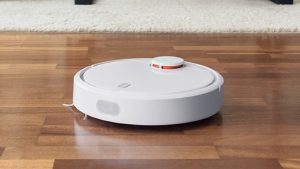 The Mi Robot Pro is the top-tier version of the company's Mi Robot vacuum line, and features a few extra bells and whistles to counter the common problems found with such devices. It's a little bigger than other autonomous vacuums out there, such as the smaller Roombas, but it's not a bad thing, because the Mi Robot Pro has a larger filter and collection bin, along with a bigger 3,200 mAh battery, to keep it cleaning for longer.
PriceCheck tip: Xiaomi has a wide range of smart home and consumer gadgets, and you can find the best deals on Xiaomi products, check out PriceCheck.
While a little bit larger, the Mi Robot Pro features a very low profile, allowing it to slide under furniture with ease, or be stored away in a cupboard or under the couch without much fuss. The device also has the ability to mop, with a small water tank and interchangeable mop head for the bottom, which does work well enough to pick up small spills and marks on tiles or wooden floors. Furthermore, there is a companion app which you can pair with the vacuum in order to create digital boundaries or scheduled cleaning times.
The Xiaomi Mi Robot Vacuum Pro is priced at R5,499. Find the best deal here.
iRobot Roomba i3+ Vacuum Cleaner
The iRobot Roomba i3+ Vacuum Cleaner irons out a lot of the kinks with the technology of robot vacuum cleaners and delivers something that resolves a few of the shortcomings with other products. It's also one of the best robot vacuum cleaners for pet hair.
The 13+ is easy to use from the get-go, featuring a large 'clean' button which activates its smart navigation system, allowing it to slink its way around your furniture, ensuring that it covers all the ground it can. Where previous robot vacuum cleaners have struggled is pet hair, but thankfully, the i3+ devoured big and small tufts of pooch hair with no problem. Furthermore, i3+ comes bundled with the charging and cleaning station, where the Roomba will return to when the battery is low, or it needs to empty its catch.
PriceCheck tip: Dealing with pet hair can be tricky, but using a pet hair brush a daily basis can help alleviate a lot of the hair that falls to the floor. Check out the best deals on pet grooming items on PriceCheck.
The design is clever, and it really does minimise any human involvement, which is a huge win. There's even a companion app, which you can use to schedule automatic cleaning times and change preferences, such as adding an extra clean during high-pollen periods or pet-shedding season.
The iRobot Roomba i3+ is available in South Africa for R11,999.
Hobot Legee D7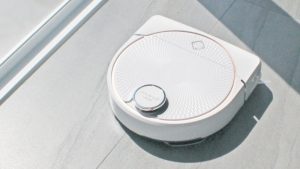 One of the newest models to hit the South African market is the Hobot Legee D7 vacuum mop. The Hobot Legee range are D-shaped robots, which means much wider coverage and edge coverage than a round designed robovac. Hobot says it is this design feature that continuously puts Hobot ahead in terms of its effectiveness. The all new Legee D7 introduces a tangle-less design with an additional front suction vent before the standard rotating brush – in other words, pet hair and larger waste get sucked up before they tangle the brush.
It's a 2700Pa suction robovac (a typical robot is about 1500-2000PA) and exerts downwards pressure of up to 600g. Instead of wheels, it uses tractor tracks, making it more manoeuvrable in tight spots, and it can climb 20mm sills, where many wheeled robovacs cannot reach.
By connecting home appliances to your smart phone, cleaning can be done while you do other things. Additionally, the cleaning power of the Hobot means there is less dust and pet dander around, making the air you breathe at home cleaner and safer.
Two features set this new robot vacuum apart from the others: the all-terrain vacuuming and mopping feature which makes carpets and hardwood floors equally accessible on the same cleaning run, and the smart-mapping technology, which literally maps your home and cleans accordingly. If you're looking for one of the best robot vacuum cleaners for carpets, then this is a great bet.
Robot vacuums in South Africa retail between R5,000 and R15,000, which puts the Hobot Legee slap-bang in the middle of the market at R8,999.00 – making it the ideal product for a smart home or for busy consumers.
PriceCheck tip: Home automation is a growing industry, and you can find everything from smart home hubs to smart lightbulbs on PriceCheck.