There's nothing quite as lovely as the smell of ginger biscuits filling your kitchen. While in many countries ginger biscuits are associated mostly with Christmas time, here in South Africa they're a firm favourite during the winter months of June, July and August. These simple tummy warming biscuits not only taste amazing, but are also really easy to make and go down well with a warm cup of tea or hot chocolate. Of course, there is more than one way to skin a cat… and certainly more than one way to make these baked delights, so we've rounded up our favourite ginger biscuit recipes for you to try at home. Here are our picks for foolproof ginger biscuit recipes ready for the snuggly season ahead!
RECIPE: Soft Ginger Cookies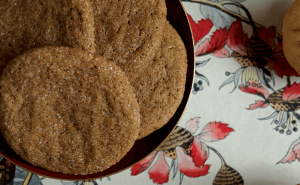 This ginger biscuit recipe is a must-try if you prefer a soft ginger cookie to dunk into your hot chocolate. While many people love a ginger cookie with a real snap to it, this recipe was designed to create a softer, melt-in-your-mouth texture. This easy recipe from Clover South Africa should yield about 24 crunchy, gooey biscuits so you'll have plenty to satisfy your cookie cravings throughout the month.
Ingredients
2 cups (280g) cake flour
2 tsp (10ml) ground ginger
1 tsp (5ml) bicarbonate of soda
¾ tsp (3ml) ground cinnamon
¼ tsp (1ml) salt
¾ cup (175g) Clover Mooi River Butter
1 cup (200g) sugar
1 egg
1 tbsp (15ml) water
3 tbsp (45ml) molasses
2 tbsp (30ml) sugar
Method
Preheat oven to 175°C.
Sift together the flour, ginger, bicarbonate of soda, cinnamon and salt.
In a separate bowl, cream together the butter and sugar until pale and fluffy.
Beat in the egg, and the water and molasses.
Add the sifted ingredients into the butter mixture and mix to combine.
Shape the dough into small balls, and roll them in the remaining sugar.
Place the cookies about 5 cm apart onto a non-greased baking sheet, and flatten slightly with the back of a spoon.
Bake for 8–10 minutes until golden.
Repeat with remaining dough.
Cool on a wire rack.
RECIPE: Ginger snaps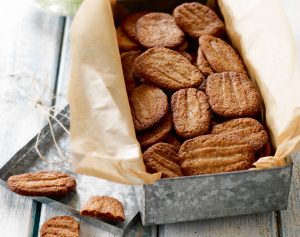 If it's a signature cookie snap you want then this recipe from Snowflake South Africa won't disappoint. This highly addictive, sugar coated biscuit gets its chewy texture and spicy flavour from adding brown sugar, molasses, and ground spices (cinnamon, ginger and cloves) to the batter. The longer you bake these biscuits, the more crispy they become. The recipe should yield about 45 cookies.
Ingredients
125g butter or margarine
250ml golden syrup
875ml (500 g) Snowflake cake flour
7ml bicarbonate of soda
3ml salt
15ml ground ginger
250ml (200 g) light brown sugar
1 extra-large egg, beaten
Extra light brown sugar for sprinkling
Method
Melt butter and golden syrup together in a small, heavy-based saucepan. Remove from heat and leave to cool slightly.
Add beaten egg to syrup mixture and mix well.
Sift flour, bicarbonate of soda, salt and ginger together. Add sugar.
Add dry ingredients to egg mixture, mix and knead well. Roll mixture into heaped teaspoon-size balls and place onto greased baking trays, leaving enough space for spreading. Press down lightly with a fork. Brush lightly with water to ensure cracks when baked. Sprinkle with extra sugar.
Bake in a preheated oven at 160 °C for about 15 minutes. Turn out onto wire racks to cool. Store in an airtight container.
RECIPE: Ginger Biscuits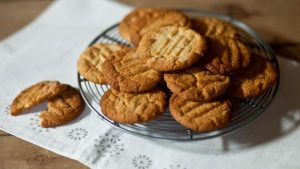 This ginger biscuit recipe from Huletts South Africa is all about creating a biscuit with the perfect balance between sweet and spicy. These biscuits are the ultimate winter treat and are sure to make you feel all warm and fuzzy in front of the fire place during the cooler months.
Ingredients
1375ml (770 g) cake flour
12,5 ml cream of tartar
25 ml ground ginger
5 ml salt
625 ml (500g) Huletts SunSweet Brown Sugar
250 g butter
225 g Huletts Golden Syrup
3 extra large eggs
10 ml bicarbonate of soda
20 ml milk
Method
Mix the flour, cream of tartar, ginger and salt together.
Add the sugar to the flour mixture.
Rub the butter into the dry ingredients until the mixture resembles fine breadcrumbs.
Beat syrup and eggs together.
Dissolve the bicarbonate of soda in the milk. Beat in the egg and syrup mixture and add to the dry ingredients, mix to a firm dough.
Cover with plastic and leave in refrigerator overnight.
Preheat oven to 180ºC.
Roll dough into small balls, place onto greased baking tray and flatten slightly.
Bake for 10 – 12 minutes and then cool on a wire rack.
RECIPE: Condensed Milk & Ginger Biscuits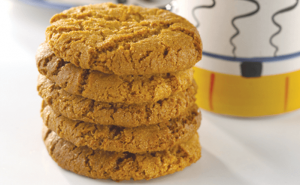 If you're bored with the traditional ginger biscuits then this recipe for Condensed milk and ginger biscuits from Clover South Africa is the ideal way to spice things up in the kitchen. The condensed milk adds a delightfully creamy texture to the biscuit and works as a killer combination with the spicy ginger flavours. This recipe should yield 8 dozen biscuits, plenty to go around this winter!
Ingredients
400 g (500 ml) sugar
500 g Clover Mooi River Butter
250 ml golden syrup
1 x 397 g can Clover Full Cream Condensed Milk
25 ml bicarbonate of soda
50 ml vinegar
960 g (8 x 250 ml) cake flour
20 ml ground ginger
3 ml ground cinnamon
pinch of salt
Method
Preheat oven to 180°C.
Beat sugar and butter together until creamy.
Dissolve bicarbonate of soda in vinegar and add syrup and condensed milk.
Mix dry ingredients and add to butter mixture.
Add condensed milk mixture and mix well.
Shape into small balls and place on a greased baking tray.
Flatten slightly.
Bake for 20 minutes or until golden brown.
Love to bake? Shop for all your baking essentials at the best prices online via PriceCheck now: