We get it; putting together a killer outfit every morning can be stressful but this year fashion is throwing women a real bone with a one-piece wonder that is not only easy to style but ultra-comfortable too! Jumpsuits have been a low-key staple in many a stylish women's wardrobe, but this year looks set to be the real revival of the all-in-one outfit.
Debuted during the war, Italian fashion designer, Elsa Schiaparelli put the jumpsuit onto the fashion map in the early '30s. She even created air-raid suits complete with matching gas masks! Fast-forward to the 60s, and the jumpsuit had another fashion moment. Celebrities like Cher, Abba and Elvis were seen rocking jumpsuits on stage and the red carpet, solidifying the jumpsuit as a fashion staple of note.
This year we've seen big designers like Dries Van Noten, Emilia Wickstead and Stella McCartney debuting jumpsuit options on the runway and more affordable, ready-to-wear alternatives are already starting to hit South African retailers.
With a wide range of retailers all in one place, PriceCheck offers the best way for South African fashionistas to shop for on-trend items. Looking for the perfect black cardigan or a pair of chunky sneakers? Visit PriceCheck to view a list of options at different price points so you can compare before you buy! Take a look at these stunning jumpsuit options from South African retailers:
Utopia Frill Shoulder Jumpsuit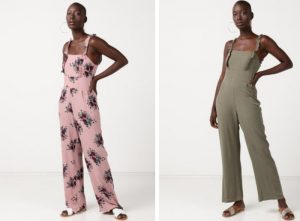 Stay on trend this summer with this stylish yet versatile Utopia Frill Shoulder Jumpsuit from Zando. Available in three colours; a stunning lush print, live green, and black, this is the most comfortable way to look like a million bucks this summer.
Buy it online via PriceCheck now: 


Sissy Boy Denim Jumpsuit
Nothing is more versatile than a classic denim jumpsuit. The fitted contour and exceptional mobility of this Sissy Boy Denim Jumpsuit from Subwear ensures a comfortable, flattering fit that is easy to style. Pair it with a high heels for a night out on the town or a pair of sneakers for a chic casual look.
Buy it online via PriceCheck now: 


Cotton On Woven Short Sleeve Jumpsuit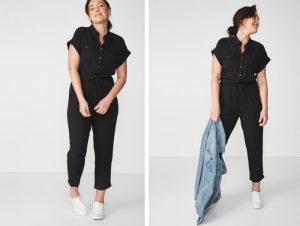 With front button down closure, this short-sleeve jumpsuit from Superbalist offers an elasticated waistband with drawstring detail for a comfortable look that will rock your world. Pair it with a comfy pair of high-heeled sandals for a killer summer look or style it with your favourite pair of flats for an ultra-cool daytime outfit.
Buy it online via PriceCheck now: 


Want more fashion-related reads? Read all about the Sonic x Puma Collection and Puma's Hybrid Rocket Runners!
Check Out Our Beauty & Fashion Section For More Fashion News And Style Tips.