Logitech's G range has introduced South African gamers to a host of exciting, new products specifically geared for gaming performance in mind; and while the company's G102 mouse does just that, it also carries a fantastic price-tag and design that will appeal to even a greater, more mainstream market.
The Logitech G102 swoops in as the brand's entry-level G series mouse, putting up a price of only R399, but coming with most of the bells and whistles that'll act as your gateway drug into the world of gaming peripherals, and showcases exactly why you need them.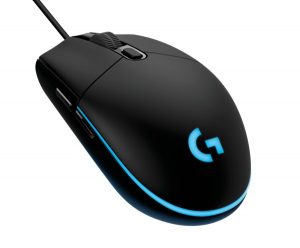 The G102 has an interesting combination of a sleek and lightweight design, mixed with a feeling of durability and firmness, for an experience that is slick and streamlined but feels robust and solid. It's a testament to the design philosophy of Logitech's G range in terms of delivering premium-grade accessories and peripherals without the cumbersome size and avoiding the plastic-y feel that many of these accessories carry.
Also read: Logitech G Unveils Its Lightest Gaming Mouse Yet
But, even with its bells and whistles, this gaming mouse isn't trying to be anything overly fancy. The G102 keeps it simple with a classic 6-button design, giving you familiarity but enough options to configure gaming inputs to your needs (the side buttons are excellently placed, by the way). Its gaming-grade sensor (8,000 DPI) ensures that the movements and accuracy are both responsive and pin-point, respectively.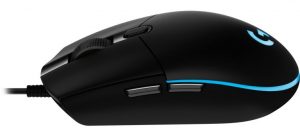 Of course, with any gaming product, you want a little pizazz to go with it. The G102 features a full RGB lighting strip around the palm area, and the 'G' logo itself fully lights up to your specifications.
This is where the fun comes in; the G102 can be used with Logitech's built-in software, which allows you to customise the pattern, brightness, and combinations of RGB lighting, giving you the option to go with something that matches your mood, setting, or preference. You can even set the mouse's RGB lights to flicker and flash with audio that you're playing, which should be a win for music lovers and bedroom DJs.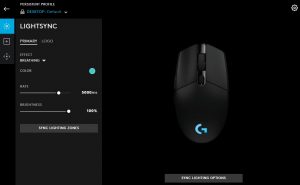 The companion software even allows you to further customise your entire layout, as well as adjust the sensitivity for various games to an even finer degree than other mouses, giving you a lot of personalisation that you won't find elsewhere for the price.
Logitech's G102 is a fantastic product for those who want the flexibility and customisation options (along with the flair) of gaming peripherals, but with a more-than-reasonable budget in mind. It looks and performs well and will slot into any gaming desk, work set-up, or laptop bag with ease.
Find the best prices on gaming mouses online with PriceCheck now: