Are you itching to get your hands on the latest smartphone trend? If you're shopping around for the best smartphone deals, then now might be the time to consider investing in a foldable smartphone. Huawei is throwing its hat into the foldable smartphone ring with its first foldable phone to be launched in South Africa. Not one to shy away from competition, the brand is taking a big swing with the launch of the Huawei P50 Pocket Premium Edition. But is this the foldable smartphone for you? We spent a few weeks with the P50 Pocket Premium Edition to find out if this flip phone is more than just a nostalgia play.
If aesthetics matter to you when shopping for a new smartphone, then this device is sure to pique your interest. Created in collaboration with haute couture designer, Iris van Herpen, the device features a stunning etched 3D micro-sculpture design in a beautiful gold tone. The P50 Pocket Premium Edition not only offers the cool factor of being a foldable device reminiscent of the much-loved flip phones many of us had as teenagers in the 2000s, but it also delivers a pocket-sized work of art that you'll be thrilled to be seen with.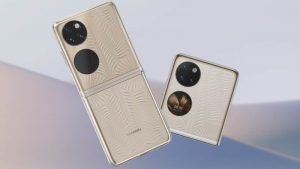 For this eye-catching device, Huawei has managed to brilliantly combine technology, beauty and design into one device. It is packed with all the features you would expect from a flagship device and is sure to be a winner for anyone looking for a foldable smartphone that truly delivers on its promise.
All about the hinge
Of course, when it comes to foldable smartphones, it's all about the hinge. For the P50 Pocket Premium Edition, Huawei says it has developed an industry-leading multi-dimensional hinge which is reinforced with innovative materials that fold to fit seamlessly.
PriceCheck tip: If you're looking for the best data and cellular contract deals, PriceCheck has some amazing offers listed from the biggest mobile retailers in South Africa.
The phone instantly transforms from a pocket-sized flip phone to a full-screen smartphone without a hitch. Nearly invisible, the seam doesn't distract when using the screen. The device is just 15.2mm thin when folded, making it super easy to carry around in your pocket or even in a small handbag. And, when you're ready to get the full smartphone experience, you can just flip it open to enjoy a large 6.9-inch display with a 21:9 ratio.
What's more, the device offers great functionality even when folded, with features like walking navigation, music control as well as sports and health features all accessible on the circular cover screen. Checking notifications, receiving calls and taking quick selfies are also made easy with service widgets on the cover screen. The cover screen also offers a camera display, perfect for taking selfies, even when the device is folded.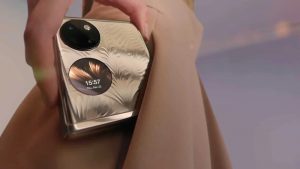 Top tier tech
More than its aesthetics, the Huawei P50 Pocket Premium Edition also delivers on the feature front. Boasting 12GB RAM and 512GB of onboard memory, this flagship smartphone is geared toward power users who need to tackle multiple tasks at the same time, without any distractions. The dual SIM device is fast and super responsive and features a Qualcomm SM8350 Snapdragon 888 4G chipset, running on EMUI 12. A side-mounted fingerprint sensor gives you quick access to apps and the home screen when the device is open.
The Huawei P50 Pocket offers great standby battery life and supports super-fast charging speeds. It comes standard with a 4 000mAh battery and supports 40W Huawei SuperCharge for an effortless, high-speed battery top-up. The device also features a built-in smart battery engine for managing battery health and enabling smart battery management, battery experience, and customisable battery management. This means that you can optimise your battery to deliver performance suited to your specific needs.
Not camera shy
As we've come to expect from Huawei devices, the Huawei P50 Pocket truly shines when it comes to its camera setup. The double ring design of the Ultra Spectrum Camera adds to the design aesthetic of the P50 Pocket Premium Edition, making it stand out even further.
The device includes a triple-lens rear camera setup featuring a 40MP True-Chroma camera, a 13MP Ultra-Wide Angle camera and a 32MP Ultra Spectrum camera. Lastly, a 10.7MP front-facing camera offers a stellar snapper for selfies.
To ensure you get the best shot every time, Huawei's XD Optics and True-Chroma Image Engine work together to enhance the clarity and visibility of lighting to bring out natural details and vivid colours in your photography.