Load-shedding looks like it is here to stay for some time. While being without power during loadshedding can be frustrating and inconvenient, it is often made worse by the lack of an Internet connection. For those who work from home, being without internet can be especially challenging. So, how do you stay online during loadshedding? We've found a few loadshedding solutions that are sure to help keep your internet connection and WiFi going when the power is out.
SOLUTIONS FOR A FIXED LINE:
If you have a fixed-line broadband connection that you want to keep up and running during load-shedding, you can prevent internet downtime with a UPS or battery backup powering your router and CPE. Keeping your router powered when the power is out is just the first step to staying connected during loadshedding. You'll also need to keep your CPE powered. A CPE is a Customer Premises Device supplied by your service provider that connects to the fibre and provides a connection point for your router.
UPS | Uninterrupted Power Supply
A great solution to keep a fixed internet line running in the event of a power outage is a UPS (uninterruptible power supply). These devices come in all shapes/sizes and compatibilities. A smaller, more affordable UPS can help run your router and PC for a short period while a larger unit will help you connect multiple devices or enjoy longer sustained use.
A dedicated mini-UPS for a router/CPE, will have all the correct plug points and cables you'll need for an easy setup. A little UPS like this should keep your WiFi on for the expected 4 hours of load shedding, giving you more than enough time to keep using your internet connection.
Find the best prices on UPS devices online with PriceCheck now:


Inverter
An even better, but more costly, solution for long periods of downtime is an inverter or generator. An inverter is ideal for electronics and will deal with keeping your PC on as well as your router and CPE. One of the main benefits of an inverter is that it's a silent, more discreet device to a noisy generator. You can also use an inverter inside without worrying about fumes.
When choosing an inverter it's key to consider the maximum power load it will need to deal with. Inverters can have anywhere from as little as 100W capacity to 4000W — so add all the wattage of all the devices (WiFi router, PC, phone charger, and even television, etc) you'll want to run at the same time and you'll get an idea of what capacity you'll need to look for in an inverter.
Find the best prices on inverters online with PriceCheck now:


SOLUTIONS FOR MOBILE LTE ROUTER:
If you don't want to commit to the cost of keeping your fixed line connection running, you may be better off looking at a mobile solution to your internet problems.
Battery-powered MiFi router: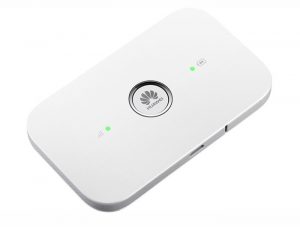 A portable, battery-powered MiFi router is particularly useful during a power outage. These mini routers contain a SIM card and run for hours on a single charge while delivering an LTE connection to WiFi-connected devices. You can also charge them with a power bank in a bind.
Many mobile operators offer these routers along with an LTE data plan. Signing up for a LTE data plan may prove to be a great backup solution to stay online when the power is out. It may also work out much cheaper than using standard mobile data and tethering to your mobile device. A small battery-powered router also provides the advantage of a portable WiFi hotspot for moments when you need to work on the go.
Find the best prices on MiFi routers online with PriceCheck now:


Mobile tethering:
If all else fails and you're looking for a temporary, quick solution during loadshedding you can rely on the mobile data connection provided by your smartphone as a last resort. Many modern smartphones include support for WiFi hotspot tethering, enabling you to use your smartphone as a hotspot for other devices, like your laptop, to connect to.
While this may be an easy solution it's also the most expensive option so it's not the best idea to rely on this as your permanent fallback option.