Avid runners know that investing in a good pair of running shoes is incredibly important, particularly for avoiding unnecessary injuries. But, investing in an expensive technical running shoe from a leading running shoe brand doesn't mean squat if the shoe doesn't fit correctly. Running shoes that are too big or too small can wreak havoc on your feet and interfere with your training goals but finding the right fit isn't always easy. Here's how to get the right fit for running shoes and why fit matters.
If you want to maximise your performance and keep yourself free from pain and injury, it's vital to choose a pair of running shoes that are appropriate for your needs. Bottom line, if your running shoes are too tight or loose you'll be in for a bumpy ride on the road or treadmill. Running in shoes that don't fit correctly or that are worn-out can increase your chance of injury. Over time, shoes lose their stability and capacity to absorb shock, which can dramatically increase stress to your feet and legs. These added stresses could lead to blisters and calluses as well as contribute to lower limb overuse injuries causing heel, arch and shin pain.
Choose the right shoe for your sport
Different types of running require different types of running shoes so it's important to choose a running shoe to suit your needs. The range of running shoes available can be daunting, but you can narrow it down straight away by focusing on what exactly you're going to be doing with them. Will you be road running, running on a treadmill or on a forest trail? All these surfaces require a different kind of shoe. For example, marathon runners will need a well-cushioned shoe, whereas if you're training for a 5km run, a lightweight performance shoe would be better suited for you.
For runners, the more distance you cover during individual runs or walks, the longer your shoe needs to be, whereas for cross-training and moving laterally, you would need to choose a sturdy shoe with a snug fit that makes the foot feel as though it is taped within the shoe.
Casual runners who clock distances of 5Km or less could choose something like the Mizuno Wave Shadow:


Understanding your running style:
Choose the right running shoe for your running style is perhaps the most important factor to consider when selecting a pair of running shoe. There are many running shoe types available and running experts have narrowed down running styles and running shoe types into three categories. Namely, Over Pronators, Neutral Pronators, and Supinators.
Pronation is the term used for the way your foot rolls when you walk and run. Your pronation type determines how much and where you need support and cushioning in your shoe so knowing your pronation type is essential when shopping for any kind of sport shoe. Buying the right shoe for your pronation type could prevent blisters, joint pain, and other injuries. If you're unsure of your pronation type you can get an expert gait analysis at many specialist running retail stores.
Neutral runners are suitable for most runners. If you're unsure of which shoe is the best for you, a neutral shoe is often the best choice for casual runners who run a light 5KMs a couple of times a month.
Active types looking for a great neutral running shoe will love the Asics Gel Nimbus 20: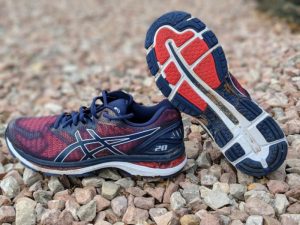 Understanding sizing:
When it comes to shoe size it is important to consider both the length and width of the shoe. While most people have a fixed idea about their shoe size, when choosing a running shoe it is important to keep an open mind regarding your shoe size. A good rule of thumb in terms of length is to have a little extra room in your shoe near the toe area. A safe bet is to measure a finger's width of space between your big toe and the tip of the shoe. This will help to account for the fact that your foot will naturally expand the further you run and this require more room in your shoe. Black, bruised or lost toenails after running could be the result of an incorrect fit in terms of length.
In terms of width, it's important to pay close attention to the width of the shoe when choosing a running shoe. If you have wider or narrower feet than 'normal' look for shoes that have a wide or narrow construction. This will help prevent friction between your foot and the shoe and lessen your risk of blisters.
Those with wider set feet can try the Asics GT-2000 7:

Weigh up your options:
When choosing a pair of running shoes don't forget to take your weight and the weight of the shoes into account. The weight of the runner is an important consideration as a bigger built runner may need a shoe with a lot more support. As for the shoe, lighter they are the better. Runners wear their shoes for great distances and a heavy shoe can weigh you down and really start to take their toll on your last few kilometres when you're tired and dragging your feet.
Don't forget your socks:
When you go shopping for running shoes, don't forget to take your preferred style of running socks along for trying on shoes. This will enable you to make a proper evaluation of how well the new shoe will fit your feet when you're on your run.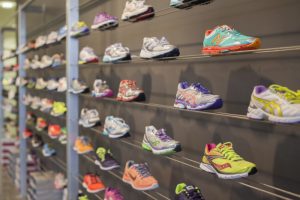 Once you've found the shoes you want it's time to start shopping around for the best possible price. A little bit of research can help you save a pretty penny on running shoes and other important running gear. Running shoes don't come cheap so before baking a big purchase, compare prices on a range running shoes and essential running gear on PriceCheck: