Paperback loving reading purists may look down on e-books, but as it turns out, they could have some surprising benefits for your child. If your child is reluctant to read but can happily spend hours glued to a tablet, then giving them an e-book might tempt them into reading. Many parents may be concerned that giving your child yet another tech product and letting them read on a screen could do more harm than good, but new research by the National Literacy Trust shows that being given the opportunity to read e-books had a positive impact on children's reading attitudes, particularly for less engaged readers. There are many surprising advantages to introducing your kids to e-books and e-readers, let's take a look at just a few ways kids benefit from e-readers.
It encourages reading
As we mentioned, e-books can encourage reluctant readers to discover a new-found passion for the written word, both in digital and print format. According to the study conducted by the National Literacy Trust, two-thirds of the least enthusiastic readers who participated in the study said they enjoyed reading using technology. Interestingly, this new-found enjoyment of reading also proved to have a knock-on effect on their enjoyment of printed books. While at the beginning of the study, only 10 per cent of the children said they enjoyed reading on paper, after the study, 40 per cent of the children said they enjoyed reading on paper.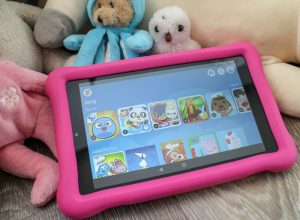 The Kindle Fire HD 8 Kids Edition Tablet offers the perfect companion for little readers. With an 8-inch colour Display, 32 GB of internal storage, 12 hours of battery life, and kid-proof case, this tablet is specifically designed with kids in mind. This tablet also supports content besides books such as movies or educational apps. What's more, Amazon Parent Dashboard allows you to manage usage limits, content access, and educational goals.
Available from: RedTag, Geewiz, and ImportItAll.
Price: from R2,465.


They come with a built-in dictionary:
Finding out the meaning of a foreign word you've come across while reading on your e-reader is incredibly easy as most e-readers come with a built-in dictionary that can be accessed in a flash. For example, Kindle makes it really easy – you just tap a word that you don't understand and the definition comes up. This is a great feature for kids. When they encounter a word they aren't sure about, it's quick and simple to select the word and call up its definition.
A library wherever you go:
The accessibility of e-books makes them an attractive option to children. While carrying a physical book around might seem like a chore to a lot of kids, having a multitude of things to read on one digital device is a lot more convenient. A child with access to an e-reader can be carrying hundreds of books in their hand. They also have the advantage of looking 'cooler' than paper books, making children less likely to be self-conscious about being seen reading if they're using technology to do it.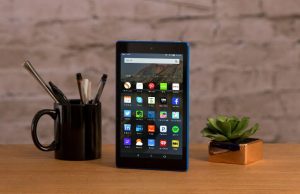 For older kids, the Kindle Fire 8-inch Tablet is a tablet that can easily transition from school to varsity with your high schooler. Practical and versatile, this e-reader-slash-tablet enables you to easily view detailed textbook illustrations, check out classroom novels, and find loads of books for leisure reading. Other supported apps include Spotify and Netflix.
Available from: ImportItAll and PC Link Computers.
Price: from R1,499.

E-books are easier to read:
While you may be reluctant to have your kid reading on a screen, e-readers can offer a distinct advantage for many children. Being able to change the print size when reading an e-book makes it easier to read. Many studies have suggested that having alternative font sizes could have particular benefits for children with vision problems or those who experience difficulty reading. Furthermore, these days many e-readers come with specific fonts for special educational needs, like dyslexia or visual processing disorders, making them a huge asset for children who struggle with reading 'traditional' fonts.
Kids stand to benefit immensely from an e-reader. Whether they use a fancier Kindle model with more tablet-like features or a pared-down black-and-white e-reader. An e-reader can help increase a child's interest in reading, reduce spending on print materials, and provide greater portability for their books.