Still looking for the perfect gift for mom, dad, or that friend that has everything? Fear not, festive season shopping just got a little easier with this new gin drop from Hope Distillery. The artisanal gin mavens have distilled three limited release gins, inspired by Christmas past. These oh-so-festive Gold, Frankincense and Myrrh gins are perfect for a variety of holiday occasions, and would make the ideal gift for a gin lover in your life these holidays!
Each one distinct and deliciously different, these three new offerings from Hope offer an exciting festive twist to your favourite Hope gins. 'Gold' is literally gold-tinged as a result of gentle ageing – it's infused with lots of festive orange peel, cinnamon, nutmeg and almond and you can garnish it with a slice of orange. It's perfect for those celebratory moments.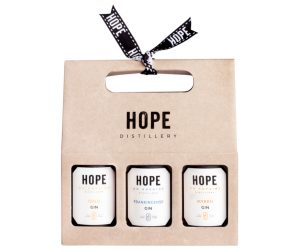 'Frankincense' has the resin as its signature botanical and as a result has smoky incense notes, with cinnamon, coriander and cumin adding to its unique flavour. Garnish with orange zest for that extra zing and enjoy after a holiday feast. Last, but not least, mysterious 'Myrrh' has delightfully warm Christmas notes thanks to an infusion of cloves, allspice, star anise and nutmeg. Garnish with rosemary and enjoy with your Christmas lunch.
Love the sound of these new additions to the Hope range but not sure which one to choose? No stress, Hope has packaged 200ml mini bottles of Gold, Frankincense and Myrrh in one gorgeous gift pack! The gift pack will be available for the festive season so make sure you don't miss out.
Find the best price on a wide selection of local craft gins and premium gins online with PriceCheck now: