Just because you're following a healthy lifestyle, it doesn't mean that you can't have a treat every once in a while. Leaving space in your diet for treats is an important part of leading a balanced healthy lifestyle. No one wants to feel like they're being deprived of the good things in life so, instead of ditching your favourite 'junk' food treats try to find healthier versions that will satisfy your craving.
Take biscuits for example, the ultimate comfort food treat, biscuits are a great way to treat yourself in a small, bite-sized way. While many store-bought biscuits contain loads of empty calories, making them yourself at home is the best way to ensure your biscuit treats are both delicious and healthy. Not sure where to start? For a guilt-free treat, try these recipes for healthy biscuits without butter and flour at home.
RECIPE: Healthy 2-ingredient breakfast cookies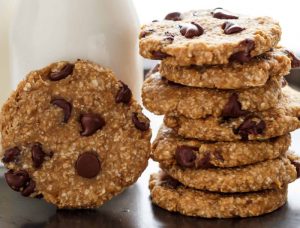 There aren't many biscuits you can eat on a diet but these delicious morsels from Café Delites are diet-friendly for sure! With no flour, oil, butter, refined sugars, fat, eggs or dairy, they're a healthy eater's dream come true.
Ingredients 
2 large, ripe bananas
1 3/4 cup quick oats (you can also use rolled oats or gluten-free oats)
1/4 cup cacao nibs or dark chocolate chips (optional)
4 tablespoons nut butter
1-2 teaspoons honey (adjust to your taste preference)
1/3 cup crushed nuts of choice (pecans, peanuts, almonds, walnuts, etc)
1/3 cup dried fruit (cranberries, raisins, sultanas, chopped dates)
1-2 teaspoons pure vanilla extract (adjust to your taste preferences)
Get the full recipe online at Café Delites.
RECIPE: Healthy Pumpkin Chocolate-chip Cookies
These healthy pumpkin chocolate-chip biscuits from Chelsea's Messy Apron have no butter, oil, or white flour and are filled with pumpkin flavour and warm, wintry spices. These little bites of joy are the perfect guilt-free treat with a cup of tea.
Ingredients 
1/2 cup cooked pumpkin
2 tablespoons honey
1 large egg
1/2 teaspoon vanilla extract
2 tablespoons brown sugar
1/2 teaspoon cinnamon
1/2 teaspoon pumpkin pie spice (a blend of cinnamon, nutmeg, ginger and allspice)
1 teaspoon baking soda
Pinch of salt
1 cup oat flour (or blend oats to create the flour yourself)
1/2 cup dark chocolate chips or milk chocolate, semi-sweet, or nuts
1/4 cup chocolate chunks (optional)
Get the full recipe online at Chelsea's Messy Apron.
RECIPE: Peanut Butter Oatmeal Chocolate Chip Cookies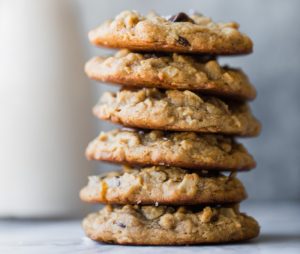 These thick, chewy peanut butter oatmeal chocolate chip biscuits from Ambitious Kitchen are gluten-free, flour less and made with 7 simple ingredients. They're packed full of peanut butter flavour and are a real treat any time of the day or night. Packed with protein, with a good amount of fibre to boot, these biscuits definitely offer a healthier way to snack.
Ingredients 
1 cup natural creamy peanut butter (just peanuts + salt)
2/3 cup packed dark brown sugar
1 teaspoon vanilla extract
2 large eggs
3/4 cup rolled oats (gluten-free if desired)
1/2 teaspoon baking soda
2/3 cup chocolate chips
Flaky sea salt for sprinkling on top
Get the full recipe online at Ambitious Kitchen.